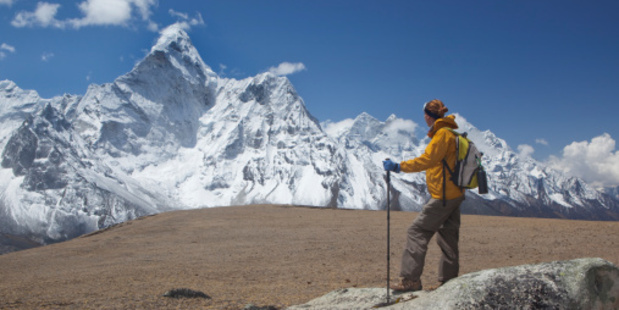 For many hikers to Everest Base Camp in Nepal, adding an extra hike to the top of nearby mountain Kala Pattar is out of the question.
Exhaustion and altitude sickness have often already taken their toll.
But Kala Pattar, rising to 5545m, offers good views of the summit of Mount Everest and an extra challenge.
For those up to the task, take heed of these tips:
EAT BEFORE YOU GO
It's an obvious one, but when you have a 5am wake-up call it's difficult to pull yourself out of bed any earlier. It doesn't help when it's snowing outside and temperatures are hovering around minus 25C. It's a slow four-hour hike and difficult to manage on an empty stomach.
DRESS FOR THE COLD
At these altitudes temperatures can get beyond chilly. Although you may think a thermal top, two fleeces and a windproof jacket will keep you warm, it's better to wear, or at least pack, an extra layer.
A fleece or down vest will give your chest that extra warmth it'll need at the peak.
PACK LIGHT
Climbing Kala Pattar is a relatively short day hike and travellers usually depart from and return to their base at Gorek Shep. That means only take the essentials in your day pack. Keep it as light as you can so you don't make the hike any harder than it already is.
WATCH YOUR STEP
The top of Kala Pattar is basically a massive pile of rocks. They're all shapes and sizes and can be difficult to negotiate if you're tired or not steady on your feet. On your way back down from the summit be extra careful. If you rush you could easily fall and if there is snow on the ground it will be especially slippery.
APPRECIATE IT
You may be exhausted, freezing and hungry but scaling Kala Pattar is an achievement to be proud of. As you gasp for breath in the thin air remind yourself of where you are in the Himalayas. Soak up the view of Mount Everest and the valley surrounding Gorek Shep - it truly is a magnificent sight.
- AAP