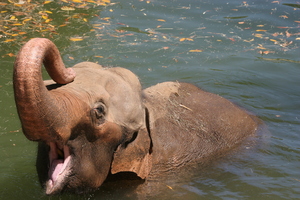 Have you any suggestions for the best places in Thailand, Vietnam or Cambodia to volunteer with elephants or other wildlife? I have seen a few centres that allow volunteering for around a week, but have not been able to find many reviews on them.
- Claire
Lonely Planet's Sarah Bennett and Lee Slater reply:
Lonely Planet's Vietnam, Cambodia, Laos & Northern Thailand guidebook lists training to be a mahout (elephant caretaker) as one of Southeast Asia's most unique experiences, and cites the Thai Elephant Conservation Centre in Lampang near Chiang Mai as the best place to do it.
As well as offering the usual elephant encounters, such as bathing, rides and excellent shows, its 10-day mahout training programme is very popular.
Of the countries you mention, Thailand offers the most volunteering opportunities. Volunteer Work Thailand maintains a database, which includes work with animals. Vietnam's NGO Resource Centre is comparable.
In eastern Cambodia, volunteers are welcome at the Elephant Valley Project in the hilly and sparsely populated Mondulkiri Province. Local mahouts bring their often overworked and wounded elephants to this sanctuary where, in the words of the project co-ordinator, "they can learn to act like elephants again". A two-day all-inclusive visit includes meals, transport, accommodation, and a walk with the herd through the forest, but short- and long-term volunteers are welcome. Some training costs will need to be covered.
Direct contact with other reputable wildlife sanctuaries, many of which are detailed in the Lonely Planet guide, can bear fruit. A word of advice, though: don't pay training costs until you get there. Scams and other reasons for dissatisfaction abound.
My husband and I are planning a trip in Central and South America and the Caribbean, beginning by travelling overland from Costa Rica to Panama. According to Lonely Planet's Central America on a Shoestring, there is no overland route between Panama and Colombia. Should we fly to Cartagena, or could we sail from Colon to Cartagena? From there, should we travel by bus to Venezuela; how many days should we allow? Should we go via Santa Marta on the northern coast, the capital Bogota inland, or Puerto Carreno in the east? Are there still ferries from Venezuela to Trinidad and is it worth trying to make a special visit to Angel Falls?
- Alison Woodcock
Lonely Planet's Sarah Bennett and Lee Slater reply:
The reason you can't cross overland from Panama to Colombia is The Darien Gap, a large swamp linking the two countries. It is not only roadless, but prohibitively dangerous, especially on the Colombian side.
Sailing from Colon in Panama is a slow but appealing alternative, with foreign yachts plying this route via the Guna Yala (San Blas) Archipelago. The trip takes four to six days and normally includes a couple of days at San Blas for snorkelling and spear fishing.
The romantic, colonial city of Cartagena is a great place to start your Colombian adventure. Travelling onward, though, you're at a fork in the road. To the south, the capital Bogota is an unequivocal highlight - a stylish, progressive city packed with restaurants, clubs and art galleries. From here, the most interesting route to Venezuela border is via Cucuta, the most popular border crossing.
The other fork leads along Colombia's Caribbean coast - a sun- and rum-drenched playground, stretching 1760km from the Darien jungles to the dustbowl badlands of La Guajira. With the lure of pristine beaches, coral reefs and virgin rainforest around Santa Marta and Parque Nacional Tayrona, or the renowned jungle trek to the ancient Ciudad Perdida (Lost City), your main problem will be packing it all in.
Whichever way you travel, allow plenty of time - Colombia is more than four times bigger than New Zealand, and is the size of France, Spain and Portugal combined. Buses are the main means of transport. The network is extensive, well developed, and reaches even the smallest villages. Frequent services mean that bookings are generally not required, and the best buses (climatizado) are air-conditioned, have plenty of legroom, reclining seats, large luggage compartments and toilets.
If visiting the highest uninterrupted waterfalls in the world is on your bucket list, Angel Falls offers the chance - one not to be missed if traveller feedback is anything to go by. They are, however, located in an isolated jungle, and getting there is a complicated affair involving planes, boats and a walk requiring sensible shoes.
There is still a weekly ferry from Guiria in Venezuela to Chaguaramas in Trinidad; it leaves on Wednesdays and takes three-and-a-half hours.