Danielle Murray falls under the spell of a remote atoll in the South Pacific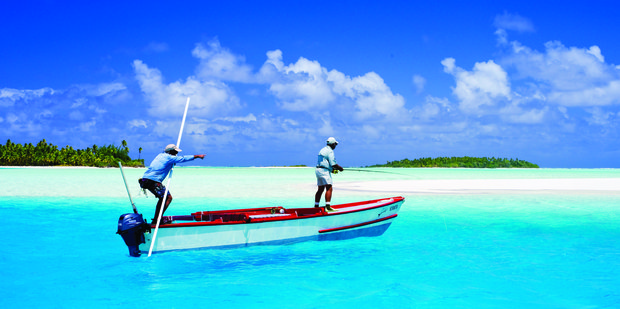 The first thing I notice in Aitutaki is the noise. There is none. Except for the roosters, which I discover, don't just crow at dawn. They can cackle forever if they choose. And they do. All day and all night. But in a nice way, of course.
The place is overrun with wild chickens and I can't quite figure it out, until I realise there are no dogs. I am intrigued and seek to find out why.
The lady who drops off the somewhat tired looking but nonetheless functional convertible rental car tells me it is due to an epidemic of leprosy which was blamed on man's best friend. The girl at one of the minuscule "superstores" on the island claims it is because, many years ago, the daughter of a local chief died of a dog bite gone bad and her father was so distraught he had every canine on the island put down. But perhaps, says a fisherman who looks old enough to know first-hand, they all ended up on the dinner table when cannibalism was outlawed.
Whatever the case, Snoopy and friends are not welcome in Aitutaki.
So they don't like dogs and they used to eat people. I'm finding myself oddly bemused by this wee atoll in the South Pacific seas - and yet equally enchanted.
Enchanted by the modest homes nestled among luscious green trees that stretch along the island's one or two main roads, the goats and pigs in every other front yard, next to well tended and sometimes very old family gravestones, and the ever present smell of leaves burning nearby.
I'm enchanted by the barefoot, barely clothed toddlers sauntering here and there, certain in the knowledge that someone is looking out for them.
And the families all dressed in their Sunday best walking to church at dusk, or just hanging out outside the local shop.
Even the sight of mothers nipping around the island on their scooters with small helmet-less babies carelessly hanging on has me smiling - but only for a second until I cringe and look away.
No one seems in a hurry here, or none too worried. From the outside looking in, the people of Aitutaki, just 2000 of them, appear untouched by the world around them, although everyone has a cellphone.
Down by the water one morning, I hear a voice, or accent, that seems out of place. Butch Leone is an American from Oregon who discovered Aitutaki 15 years ago. In 2002, he married local woman Matauaua and they have a daughter, Patricia.
"I love the island, the lifestyle, the people ... and the simple life," says Butch, "I do not notice that it is just a little dot on the map."
But does the little dot on the map not get a bit boring now and then, I have to ask?
"While outsiders may think there is nothing to do, they'd be wrong. There is plenty to do, keeping up the house, grounds-keeping... "
Ah yes, it's hard not to notice the lawns on the island, they are immaculate. "What's with that?," I wonder out loud.
"Aitutakians are always out raking the leaves and keeping the landscape in great shape. Their house may not be in all that good a shape but their yard is spotless," he says.
"My wife has me raking leaves every day now."
An expert fly-fisherman, Butch has set up his own business on the island, Aitutaki Blue Lagoon Flyfish. Now the sea is his office.
"Once I experienced salt water fishing here I had a very hard time going back to freshwater fly-fishing. The saltwater fish are much more aggressive and powerful than any freshwater fish I encountered."
In 2006, the TV series Survivor: Cook Islands was filmed on Aitutaki. Though contestants lived on two small islands in the lagoon and well away from the general population, the film crew stayed on the main island. Residents are divided on whether the show was a good or bad thing. Butch says the lagoon was taken over for three months and locals had no access.
"This cut out most of my fishing area for my clients." He, like other tour operators, was not offered compensation, so he returned to the US to work and support his family.
"I only hope they never come back," he says.
Things have been quiet since, unless of course you count a devastating cyclone in 2010 and the island's first bank robbery on the island the following year.
Until the shocking $200,000 heist, crime was pretty much non-existent in Aitutaki. Which might explain why the bank was apparently secured with no more than a single padlock.
I'm told one reason for the low crime rate is a strong faith in God - no matter what the religion. Aitutakians are devout and the island boasts more than 20 beautiful white old churches, built of coral rock and lime, representing many denominations - Catholic, Protestant, Mormon, Seventh Day Adventist, Baha'i Faith, Assembly of God and Jehovah's Witness. It is said there are more churches here per head of population than anywhere else in the world.
To date, Christian missionary John Williams likely remains as Aitutaki's most influential visitor. So successful was his campaign that within two years of his arrival in 1821, most Aitutakians had been converted.
Williams can also lay claim for the abolishment of cannibalism. It is only too bad he wasn't so successful in Vanuatu (formerly the New Hebrides) where he ended up on the menu a few years later.
The island's most famous visitor is probably Captain William Bligh of the "HMS Bounty"in April 1789, just days before the famous mutiny which left him and 18 of his crew adrift at sea. Though undoubtedly pre-occupied at the time, he is credited with introducing the paw paw fruit to Aitutaki, which has since become an important export for the Cook Islands as a whole.
But one look at the locals and it's clear to see that the good folks are eating more than just paw paw, and fast food is not the only cause of obesity. There are no KFC or McDonald's outlets in the Cooks, and yet many people are overweight. Most food, like many things on the island, is shipped in once a month via freighter from New Zealand.
Since the ship can't get past the reef, barges are sent out to retrieve the containers and gas tanks and bring them to shore.
"It's fun to watch when the weather is bad and the seas are up. The cranes are swinging those containers all over the place," says Butch.
As a result, things can be a bit expensive. One can only wonder how the people survive. Most people have gardens and there are pigs and goats and, of course, all those free-range chickens. "Many here on the island, my wife included, set up traps and capture them for eating," says Butch.
The girl at the superstore is not too crazy about the chickens, and finds them "stringy." But the eggs are fine. She tells me that when overseas relatives come to visit, their bags are stuffed with frozen beef. And rugby balls for her brothers.
If you are invited to a Cook Island feast, it is customary to let the chief eat first. I do receive an invitation but I still manage a meal fit for a king on One Foot Island - exquisite grilled fish, more paw paw, starfish, sea grapes, fresh bread and more, served on huge green leaves and eaten as finger food. It comes courtesy of "Captain Fantastic" of Kia Orana Cruises, who takes us all over the lagoon. We get to see where Survivor was filmed, take photos of that oh-so awesome coconut tree in all those travel adverts and stop on Honeymoon Island and watch Red Tail Tropicbirds as they nest. And then we go snorkelling on the reef, where we check out the giant clams and swim leisurely through the warm, see-through waters of the lagoon, and feed fish by hand.
The longer I stay, the less I want to go home. Except I miss my dog.