Pam Neville flies FJ410 from New Zealand to Fiji.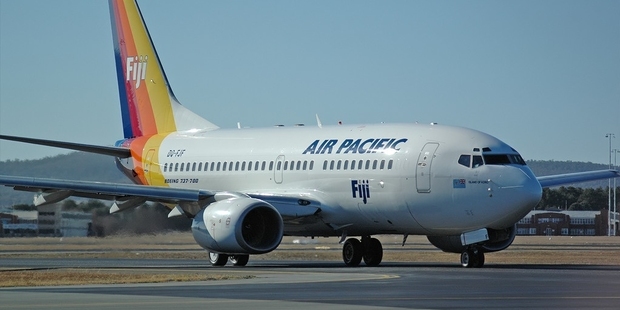 Route: Auckland to Nadi.
The plane: Boeing B737 700, a bit tired but comfortable enough. Just wait til their flash new Airbus A330s start flying the route. At the same time (June), Air Pacific will change its name to Fiji Airways.
Time: Three hours from Auckland, New Zealand, to Nadi, Fiji - give or take a few minutes.
Price: Someone else paid actually. It's usually somewhere between $350 and $400 each way, but often you are paying for a flight-and-accommodation package which makes it hard to isolate the exact fare.
Departure: The plane is full to capacity, but the cabin crew have things down to a fine art and we get away on time. There is much Bula-ing as tall young Fijian stewards have no trouble at all cramming tricky-shaped carry bags and holiday hats into the back of overhead lockers.
Entertainment: The movie is an old American rom-com, the title of which I don't catch, but it's not holding the attention of many passengers.
We're still in the era of flimsy headsets and little screens that pop down from the ceiling. But the flight attendants, decked out in Pasifika-patterned uniforms with a flower behind the ear (left ear if you are available, right if you are taken apparently) are worth watching. Don't want to sound sexist, but to call those Fijian boys tall, dark and handsome is to understate. En masse they look like a reunion of Super 15 wingers. What does Joe Rokocoko do for a living these days?
Atmosphere: Fizzing. It feels like we are in the resort already. Bula vinaka, everyone. Ah, for a pina colada.
Food and Beverage: The drinks trolley is on Fiji time. It rolls up some time after the "meal" is served. The drinks are limited, but the tots are large. They're pouring Bundaberg rum (an odd choice for the trolley, unless I've missed the significance?) as if it's cordial.
The inverted commas around "meal" are because it's more a snack-in-a-box, really. You can have a tuna wrap with a KFC-style small pottle of coleslaw and a couple of biscuits, or a chicken roll with the same extras. The biscuits with a use-by date of 2014 don't appeal, but lo, here comes the highlight of the flight: a choc-covered icecream on a stick for everyone.
Toilets: There's a queue all the way on this full plane from Auckland to Nadi. Best to go before you leave and wait until you get there. Auckland Airport's bathrooms are excellent, Nadi's are okay. (On the way home, FJ413 has lots of empty seats and no toilet queues.)
Would I fly this again? Yes, any day. It's not flash, but it gets you to paradise.