In the north, Kevin Pilley finds that cod is great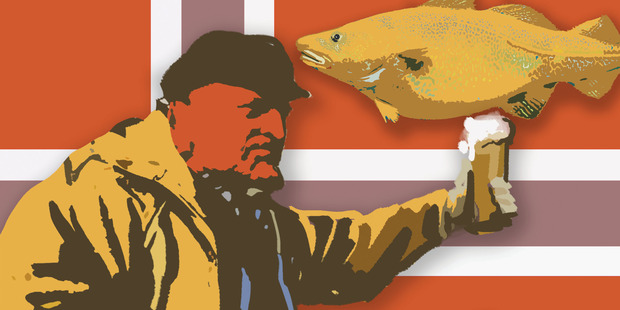 The World Cod Fishing Champs are part of the Lofoten Islands' annual Cod Festival when the 25,000 inhabitants get together to toast cod in a 'Day of Booze' (traditionally in March). Photo / Rod Emmerson
The harbourside "Cod Bar" bucked and tipped like the North Atlantic. And smelled similar. It teemed with cod fisherman swaying from port to starboard. I was drowning my sorrows, up to my gunwales in beer and speaking bilge.
I had just made my debut in "skreifiske", the traditional Nordic he-man sport of cod fishing in the ancient cod-rich Vestfjorden waters off the northernmost tip of Norway. Conditions were perfect. The plankton were about, the sea temperature ideal, the salt content spot on and the Trollfjorder was equipped with the very latest fish-detection devices.
Thirty thousand tonnes of cod are caught between January and April at the tip of Norway's 1770km of coastline. One female cod produces three million eggs a year. So when we dropped anchor five miles offshore from Svolvaer, in the middle of a shoal of Gadus Morhua nearly a mile long, expectations were high.
But, for six hours, all I caught was spume. Then my rod bent double and the line smoked out from the brass reel between my legs. My Hemingway-esque features twisted into a grimace of excruciating pain as I reeled in the monster from the deep. My forearms bulged and my groin muscles palpitated to the point of a hernia. With one last heave, I swung the brute over the side of the boat and it fell with a plop at my feet. I had caught my first pollock.
The Lofoten islands are one of the worst things that can happen to a man's self-esteem. And to his wallet. It's not cheap to feel sorry for yourself. But it had to be done.
As soon as I got ashore and shed my sou'wester, I headed to the Bacalao, the local "kulturhus" on the capital's Havnepromenaden to rehydrate and desalinate. The atmosphere was fishy and the former garage on the waterfront was packed with cod people and people with chips on their shoulders. Those sitting at tables were looking down, comparing each other's cod pieces. Most were half-cut.
In the Cod Festival, locals throw thanksgiving parties for their favourite barbel-faced bottom feeder. For centuries, cod and its derivatives have formed the staple diet as well as the basis of prosperity and most conversation for Lofoten islanders.
In the 1940s, 30,000 boats came to "row" the Lofotfiske. Now there are fewer than 2000 and, despite quotas being enforced on the cod's migratory route to and from the Berents Sea, the cod industry is taking a battering.
The winning cod weighed in at 32lb (14kg). The largest cod was caught off the east coast of the US. It was a six foot, 211 pounder. My pollock weighed in at 3lbs. So I didn't win the coveted steel cormorant trophy.
After a few more Bodo-made Nordland beers, the whole place was yawing. And I had exceeded my conversational cod quota.
Then it got rowdy. And everyone started singing. About cod.