Ibiza is world famous for its beaches, bars, and nightclubs. What's less known about the Spanish party island is that for revellers on a budget it can get expensive - fast.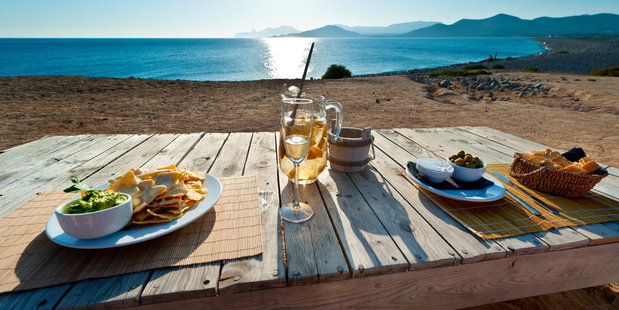 With drinks costing up to $20 at some clubs and entry price at venues set at up to $60, a finely-tuned backpacker budget can easily blow out in Ibiza.
Brad, 21, on holiday from Sydney, learnt the hard way.
In just one night at Pacha nightclub, Brad says he spent around $350 on drinks for his mates and himself.
"It's $10 just for a bottle of water in there, and $17.50 for a vodka and coke, so it adds up real quick,'' he tells me in the early hours of the morning outside the iconic club's closing party.
While the high cost of clubbing means he may have to cut his holiday short, Brad's not complaining.
"What are you going to do? It's Ibiza and that's the way it goes over here. It's a once in a lifetime holiday,'' he says.
"If I have to leave a few days earlier than planned, so be it.''
Phil, from Perth, says he paid $17.50 for a glass of orange juice at Space - another one of the island's big clubs.
"I wanted a vodka orange, but they poured me an orange juice. That's the most expensive juice I'll ever have, I reckon,'' he says outside the club, which is owned by famous DJ Carl Cox.
Local tour guide, Pablo Diaz, says while the price of drinks inside the big nightspots is high, there are ways to avoid a budget blowout.
One way, he says, is to buy tickets to clubs before going out, which can save you up to $30 or so.
In Ibiza town, he says the well known parties at Space on Sundays are a good move for partiers on a budget because the venue makes for a great night out, and has half-price entry before 9pm.
In Ibiza's other party central, Sant Antoni, he recommends Pacha's big pre-parties where DJs perform for free - another good way to avoid the huge club costs.
The other trick, he says, is to eat at the club restaurants, some of which enable you to get free entry to the club itself, before heading out.
Not taking taxis is another way to keep costs down, he says.
A taxi from San Antonio to Ibiza Town usually costs around $35, but buses around the island are cheap and run through the night in the summer season.
Diaz says it's also a good idea to read clubbing magazines which often have special deals and Ibiza tips through the party season.
Another way to keep a lid on costs can be to take a package tour to the island that includes a few days at Ibiza as well as accommodation, meals, and entry to some of the biggest clubs.
For a cheap day out, Diaz advises heading to one of the island's lesser-known beaches, like Cala Olivera, famous for its white sand and crystal clear water.
Restaurants near the beach can be pricey, so he advises stopping off somewhere along the way and buying a rustic takeaway meal, and eating on the sand.
To wash it down, he advises one of many varieties of cheap Spanish wine available all over the island.
Back at Pacha, Brad says he's not so sure about Diaz's advice.
"I didn't come to Ibiza to lie on the beach.''
IF YOU GO
GETTING THERE:
Topdeck's Spanish Fiesta tour visits Spain, Barcelona, Madrid, Toledo Valencia and Ibiza over ten days, from $1995. There are five weekly ferry crossings from Barcelona to Ibiza.
STAYING THERE:
There are options for all budgets. Rates rise significantly during high season. Details: ibiza.travel
PLAYING THERE:
Dates for 2013 Ibiza closing parties are yet to be confirmed but take place in August and September. Entry up to $70. Details: ibiza.travel
- AAP