Finland's capital is aglow with colourful lights and lasers piercing the black winter skies and lighting up downtown buildings providing a much-needed burst of illumination during the darkest days of the year.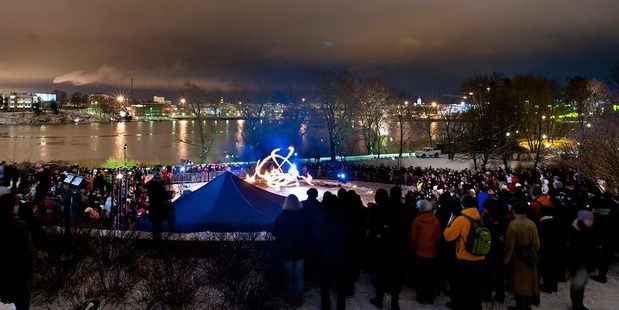 Light and sound installations at the Helsinki Lux Festival brought crowds at the city landmarks joined by lanterns hanging in trees along a path of light bordering the frozen Baltic Sea through parks and on city footpaths, where the shortest period of daylight in midwinter is about five hours long.
The path meanders through an old railway tunnel along a new bicycle and pedestrian lane where movements of those passing by are projected in a light show cast onto a wall of granite blocks below the Parliament building, accompanied to music.
Nearby, groups of people stamp their feet in freezing temperatures staring into the Sodium Sun, a collection of glaring orange-yellow strip lights that seemingly emit a hum that swirls across the square.
Markku Uimonen, the artistic director of the festival, says the aim is to provide light to people in the Nordic night.
"I think we need light. We need more light,'' Uimonen said.
"Helsinki has made great improvements with urban planning and lighting during the years, but we still feel that this kind of light festival is important so that people can actually come and see the light, not just live in the night.''
In midwinter, the shortest period of daylight in Helsinki last for about five hours.
Off the central Senate Square, surrounded by the university and government buildings,the plain white Lutheran Cathedral has been turned into a backdrop of a production called Emergence, where spectators see and hear waves crashing onto the church with patterns and textures weaving colours that change and highlight different parts of the building.
The 1952 summer games Olympic Stadium is also illuminated with rainbow colours and a green laser shooting a beam over the city from its tower.
The five-day festival, which ended on Tuesday, includes works by artists from Germany, France, Britain and Hong Kong as well as Finland.
- AAP