Moscow's contrast of communist past and modern-day excess intrigues Liz Light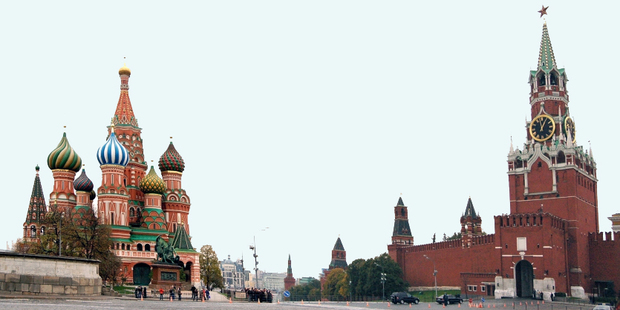 Red Square seems vast when there are no people in it. In the early morning the late-night revellers, who come here to enjoy the sunrise, have gone home to sleep it off and the tourists have not yet arrived.
St Basil's Cathedral, with its colourful confusion of onion domes and pointed towers, sits at the end of the square. It's a uniquely Russian architectural creation that looks more like a Disney wizard house than a house of God. It's mostly peach and green, with the nine domes decorated differently; candy stripes, armadillo scales and chevron patterns are painted rainbow colours and topped with bright gold crosses. It was built 450 years ago and one wonders what the architects, Postnic and Barma, were taking.
The inside is a shadowy maze of connecting passages and chapels with icons covering the walls; more are set in golden alcoves. These stylised long, sad faces of Jesus and saints have their heads framed by flat circles of beaten silver that outshine the image each surrounds. They're strangely beautiful.
Also beautiful is the unaccompanied hymn sung by four men in one of the sonically perfect chapels. The base notes are so deep my toes curl and I have the urge to prostrate myself, there and then, on the floor, before God.
Across Red Square I visit the great atheist, Vladimir Lenin, the grandfather of communism. He described religion as a kind of spiritual booze which allowed people to look forward to the afterlife rather than fighting capitalist oppressors for a better present.
Stern-faced soldiers guard the Lenin mausoleum. He wanted to be buried in a St Petersburg cemetery next to his mother but instead Stalin, who followed him as president, arranged for him to be mummified. Moscow scientists sewed up his eyes and lips, removed his brain and worked frantically to create a chemical solution to arrest the decaying process. Among other things, the preservative includes paraffin wax. And there he is, prone, in a dark suit, under low lighting with only the flesh of his hands and face showing. He looks pale and distinctly waxy.
Outside, behind the mausoleum, up against the Kremlin wall, lesser communist leaders, including the now-reviled Stalin, are buried in ordinary graves.
The Kremlin, a village-sized bastion of power, is enclosed by a 2km triangle of massive red brick wall interspersed with 20 towers that were used, 500 years ago, as look-out posts. One side was protected by the Moskva River, another by a moat which has been filled in for a park, and Red Square closes the triangle.
The Gum shopping mall in Red Square lights up at night.
I meet the rest of my group underneath a statue of a horse-mounted military hero for a guided tour of the Kremlin. The Tsars had palaces here, they were christened, crowned and buried in Kremlin churches and Stalin and subsequent presidents had lavish apartments here. This is also the centre of government, with buildings for the Supreme Soviet and Senate, and the symbolic and historical wealth of Russia resides in the Armoury and the Diamond Fund, all carefully guarded by hundreds of military.
When we visit, the military is involved in guard-changing pageantry in Cathedral Square, which is surrounded by four cathedrals, and though they are more subdued than St Basil's they make a visual extravaganza of white marble and gold-plated domes.
While foot soldiers with furry hats and great coats keep the onlookers in line, the horse guards execute a series of complicated and interlocking dressage patterns. The stern-faced riders wear long boots and uniforms with gold braid and brass buttons.
When the guards have ridden away we visit three of the cathedrals. Our guide, Alexander, quietly herds us into corners, tells us the main points of their 500 or so years of history and points out the most significant artwork. Alexander, a trained icon-eye, is able to discern the difference in style of the religious paintings that cover every skerrick of the arches, walls, columns and roofs. But what I see is a glorious, colourful mishmash of angels, Jesus, battles, saints and, on high, the occasional image of a ghostly God .
Archangel Cathedral has the added interest of being the home of the tombs of the Russian royal family from 1335 until Peter the Great moved the capital to St Petersburg in 1700. It must have been tough during the time of Ivan the Terrible, especially for his relatives. He killed his son Ivan for allegedly plotting against him and his youngest son Dmitry, aged 7, was playing with a knife and accidentally slit his own throat.
The group leaves me at the Diamond Fund (one pays extra for this), Russia's primo treasury of jewels. Communism allowed the state to legally seize everyone's private jewel collections, including the stupendous treasures that the royal family acquired over 500 years. The state also took ownership of the diamond mines in the Urals. The result is so much sparkling loot that if it was sold at auction, it would probably cover Greece's national debt.
Pieces of note include the Grand Imperial Crown, made in 1762 with 5000 diamonds, 75 pearls and a 49,872 carat red spinel. Catherine II was crowned with this. The biggest diamond, walnut-sized, was a gift to Catherine by her long-time lover, Grigory Orlov. The collection includes the world's biggest sapphire, three gold nuggets of around 12kg each and an 8kg lump of platinum. It's mind-blowingly excessive.
There is nothing as frivolous as a cafe in the Kremlin, or even a place to sit down, so in the middle of the afternoon I return to Red Square, go to Gum and settle in for a coffee. Gum, an 1890 shopping mall of grand neoclassical design, is huge - three tiers of shops, internal lanes and a high Victorian railway station-style glass roof covering it all. Its hundreds of shops were virtually empty in communist times and now are full of global brand fashion shops, ritzy cafes, expensive gourmet chocolate, vodka in art-glass bottles, impossibly pricey antiques and shops that sell $20,000 mink coats.
It's luxurious and typifies everything that Lenin and his version of communism purported to despise. There is irony in the way things have evolved. Gum's main entrance is across Red Square's cobbled paving from the mausoleum in which Lenin lies. For Lenin nothing, including his unwanted mummification, turned out how he dreamed it would.
• Liz Light travelled to Moscow courtesy of Cathay Pacific and On The Go Tours.

INFO
Getting there: Cathay Pacific flies Auckland to Moscow three times a week. For schedules and airfares check cathaypacific.co.nz.
Where to stay: It's incredibly difficult to get a visa for Russia unless you go through a tour company and have prepaid accommodation. A specialist in Russian travel is on the Go Tours, which offers scheduled group tours, tailor-made holidays, rail journeys and Volga River cruises. Ph 0800 447 769.