A great place to learn about Australia's Royal Flying Doctor Service operations and history is at the RFDS Alice Springs Visitor Centre, Jennifer Ennion says.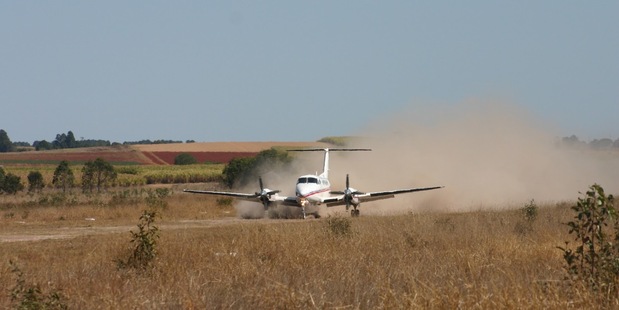 Peter Woolford thought he had a bout of food poisoning when he suffered a stroke one May afternoon in 2010.
He was 60 years old, fit and healthy.
The sheep grazier and owner of Flinders Island, off South Australia, had been going about business as usual.
It was a beautiful day on the island, he'd just finished lunch and was trying to get mobile phone reception.
While rolling up wire, a routine task on the property, he started feeling short of breath and dizzy.
"This massive headache came on and I was vomiting,'' he says from his mainland property at Port Lincoln.
With no reception, he drove 3km to his house. When he arrived, the pressure in his brain started affecting movement in his legs and arms.
He fell to the floor and, paralysed, couldn't reach the house phone to call for help.
Even though he still believed food poisoning was to blame, he thought he was about to die.
Realising he hadn't been in touch as usual, Peter's wife, Pam, began calling.
"The phone just kept on ringing and ringing; it was frustrating,'' Peter recalls.
Almost 18 hours later, Peter was found by his sons on the kitchen floor.
They called the Royal Flying Doctor Service (RFDS), which promptly dispatched a plane from Port Augusta.
"The doctor just seemed to be there in no time, it was just bizarre really,'' says Peter.
The service flew Peter to Royal Adelaide Hospital, where he underwent surgery.
"It was a matter of life and death with the bleed in my head,'' he says.
The stroke had caused Peter's brain to bleed, which in turn led to a blood clot on the right temporal lobe.
He knew how fortunate he had been to receive RFDS help and now, more than two years on, he's recovered well.
Full of praise for the RFDS, Peter says the service isn't only available to accident victims in the Outback.
"They do a lot of transfers and cases like me, which are just totally unexpected,'' he says.
Peter is just one of the tens of thousands of Australians the RFDS has helped since its inception in 1928.
Every year, it provides care to more than 275,000 Aussies.
The RFDS is dedicated to delivering health care services to rural and remote communities, and primarily relies on community donations.
A great place to learn about its operations and history is at the RFDS Alice Springs Visitor Centre, which opened its doors in the late 1970s.
There you can climb inside the nose of a plane, and browse the museum displays, which include a 1926 radio transceiver and a medical cabinet from 1958.
It's fascinating to learn just how far the Flying Doctors have come and just how important their work is.
IF YOU GO
GETTING THERE:
Qantas flies directly to and from Alice Springs from Darwin, Sydney, Brisbane, Melbourne, Adelaide, Perth and Cairns.
Fly there with Air New Zealand Book now
STAYING THERE:
There is limited accommodation in Alice Springs. Useful websites include travelnt.com and tourismtopend.com.au.
PLAYING THERE:
The RFDS Visitor Centre in Alice Springs includes a museum, cafe and souvenir shop, and tours are also held every half an hour from 9am-4pm.
The centre is open 9am-5pm Monday-Saturday and 1pm-5pm on Sundays and public holidays. It is closed on Christmas and New Years days.
For more information visit flyingdoctor.org.au and at Australia.com
- AAP