Jennifer Ennion goes walking in Jasper's winter wonderland, a playground for those accustomed to the finer things in life.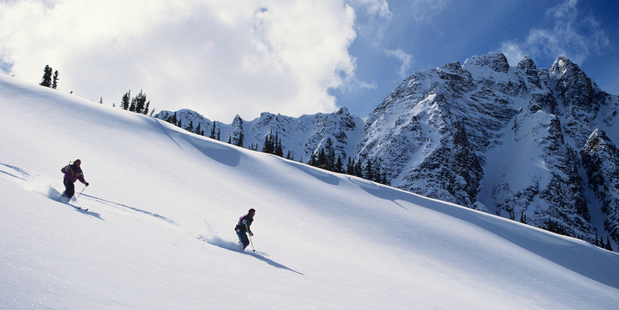 We are imposters. Complete frauds. Wining and dining like the best of them; pulling on apres boots and down jackets and winging it with the wealthy.
Luxury travel for my partner and me is, well, a luxury. But we don't let anybody else know that; as far as they're concerned this is how we roll.
The truth is, we're more accustomed to crashing at mates' homes, landing ourselves in a hostel and camping in national parks than wandering around a private cedar cabin in fluffy white robes.
So when we drive into the grounds of The Fairmont Jasper Park Lodge in the Canadian Rockies we are nothing less than blown away.
Sure, it's not the most lavish of the Fairmont resorts, but for us it's perfect - a little bit of North American stubble with a whole lot of style.
For months we have been counting down the days to this winter adventure and finally we are here.
We've heard all about The Fairmont Banff Springs further south but have no preconceptions about its sister lodging in this quaint resort town in Jasper National Park.
After two days of plane and train travel, we arrive in the Canadian province of Alberta exhausted, ready to collapse into an armchair, by a roaring fire with an aperitif in hand.
Our first view of the resort in this UNESCO World Heritage area is of the frozen Lac Beauvert. Snow sleeps peacefully at its centre, while a woman skates around a trail on the rim, her dog determined to join her.
As we pull up to the grand entrance we notice brave guests sitting beside an outdoor campfire, warming themselves in the cool afternoon. Overhead, icicles cling to wooden eaves and drip to the cold ground below.
Snow banks the curb and coats wooden fences. Parked cars wear heavy white coats - a good sign snow has fallen recently.
The resort's history dates back to 1915 when the property consisted of 10 luxury tents.
By the mid-1920s, after log cabins had been built, it became the site of film production for movies featuring Bing Crosby (The Emperor Waltz) and Marilyn Monroe (River of No Return).
The lodge also hosted King George VI and Queen Elizabeth in 1939, and is still attracting royalty, with Queen Elizabeth II and Prince Phillip staying as recently as 2005.
We are yet to notice any royal entourage but after check-in it becomes apparent we're all the guests of honour.
We soon spy an outdoor heated pool and make a beeline in its direction. As the sky darkens with thick clouds, the pool glows aqua, tempting those guests within sight.
Succumbing to the warm waters, we glide through steam and watch snowflakes disappear as they near the heat. It is beautiful and already I know budget won't feel the same again.
Afterwards, we join fellow weary travellers and skiers at the bar in the main lodge. Large timber chairs sit beside a stone fireplace with a moose head trophy above.
Guests chat noisily over whiskey and schnapps while picking at antipasto platters, their leather gloves and furry hats piled on nearby tables.
Back in our cedar lodge it's easy to fall asleep - bellies are full and minds are dreaming of snowboarding in powder.
The following morning we wake early and excited for a day at Jasper's ski resort, Marmot Basin, about 30 minutes from Fairmont.
The snow has been scoured in places due to strong winds that lashed the mountain a week before our arrival, but as we explore the terrain, snowflakes begin to fall.
Calling it magical is a cliche but it's difficult to describe Canada's snow resorts any other way.
Tall pines quickly become covered in white clumps, as do chairlifts and huts dotting the mountainside.
Marmot Basin is a tiny resort in comparison to Canada's other famed mountains - Whistler/Blackcomb, Kicking Horse, Lake Louise. Yet, sometimes boutique is better.
That's certainly confirmed back at the lodge where you can unwind in the indoor spa, with your legs pummelled by jets.
Afterwards, we join other guests for a special Cognac tasting but I soon realise the brandy isn't my tipple.
I'm much happier sipping a Baileys and soaking in the views of the nearby mountains from the main bar.
It's a treat being 10 minutes out of town, away from noisy pubs and touristy trinket stores.
At the Fairmont, you can sit back and fall into a daze. You can dream up plans of running away from that city job to set up life in a quiet resort town where there's plenty of snow to share around its small crowds.
And hey, a spa every afternoon wouldn't go astray either.
IF YOU GO
GETTING THERE:
Air Canada has regular flights from Australia's capital cities to Vancouver and Calgary. If you want a romantic journey, fly to Vancouver and board the Snow Train, which will take you directly into downtown Jasper.
STAYING THERE:
Aside from skiing and snowboarding at Marmot Basin, guests of The Fairmont Jasper Park Lodge can also enjoy ice skating on the resort's frozen lake, snow shoeing and cross-country skiing.
PLAYING THERE:
Marmot Basin is in Jasper National Park in the Canadian Rocky Mountains. It is only 20 minutes from the town of Jasper in Alberta. The snow season runs from mid-November to early May.
There are 677 hectares of skiing and snowboarding terrain, with 30 per cent suited to beginners, 30 per cent to intermediate, 20 per cent advanced and 20 per cent expert. The longest run is 5.6km, the resort's highest point is 2612 metres above sea level and there are seven lifts.
The resort averages 400cm of snowfall each season, while temperatures during winter usually hover between -11C and 6C. For more visit skimarmot.com or travelalberta.com.
- AAP