From ballet on the beach to harvesting a hedgerow, a new company shows Kate Simon how to get the most from a UK holiday.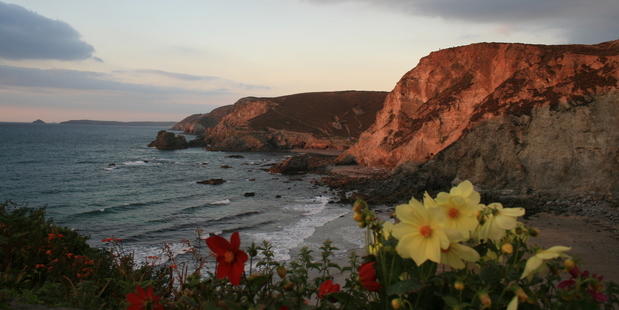 I am making like a rock. At least that's what Stacy Weeks says. We're on Bedruthan Beach on the North Cornwall coast, where she's giving me a gentle introduction to site dance - movement inspired by classical dancing, yoga and Pilates performed in the natural environment.
"Scoop your arms in front of you - a bit like first position in ballet. Thrust your pelvis forward,'' says Stacy.
I'm not so sure I look quite like the rocks around which we're standing, but it's a pleasant feeling, all this stretching and breathing in the sea air. And if you're going to strike a pose, why not do it in a beautiful place?
Stacy, who performs professionally as well as teaching this niche art through her company Red Yew, is just one of my tutors on this short break in the West County to try out a new concierge service provided by AdventureTemples.
The service is the idea of former business consultant Rob Pendleton, who left London to return home to Cornwall and set up a company that helps people get the best out of their travels in the UK and abroad. It was an idea spawned by the Adventure Temples website, which he started in 2009 as a social community to share travel tips.
Rob's Adventure Butler Menu in Cornwall (he has other regions of the country in his sights) features 90 eclectic activities and experiences - you can suggest others - to make a holiday more memorable. As well as providing great ideas for holidaymakers, the business model involves many small operations, such as Stacy's, that might normally be invisible to visitors to the area.
Site dance is the most unusual of the experiences that Rob has crammed into the atypically frenetic itinerary he's created for me.
During my time in Cornwall, I enjoy the indulgent pleasure of riding a horse across the sands at Treyarnon with Lindsay Chandler from the stables at Trethias Farm. And I add to my dinner-party repertoire with a convivial cooking and dining workshop, courtesy of Nadia's Kitchen.
It is hosted in The Millhouse at Whitehay (with working wheel), a charming cottage that Rob is keen to show me as an example of the top-quality self-catering properties he can arrange through a hook-up with the holiday rental company Unique Home Stays.
Nadia (Pendleton, Rob's wife) has an impressive CV. She has worked with Gordon Ramsay; she has run a community kitchen in London's East End, and is the author of a cookbook ranging across the world's cuisines and entitled Melting Pot.
She puts me straight. "It's all about balancing the five flavours - sweet, sour, bitter, salty and umami,'' she says. (I will never look back.)
Together we cook up a three-course storm of largely local produce: scallops with a salad of asparagus, samphire and bacon, topped with a lemon and tarragon hollandaise sauce; lamb chops with salsa verde, roast new potatoes and buttery carrots; and a rhubarb tarte tatin.
Along the way, I pick up some useful tips - leave bacon alone to stop it leaching too much liquid, or pep up that drooping asparagus by putting it in water, like cut flowers.
Rob is considering pairing Nadia's talents with those of Marcus Harrison of the Wild Food School, Britain's only full-time food forager, who takes me along a back lane in Lostwithiel for a tutorial in how to harvest a hedgerow.
The stench of wild garlic is ripe enough to allow our noses to guide us to it, though our eyes prove necessary for identifying the rather less pungent three-cornered leek.
We pluck refreshing naval wort. ("Not too much,'' advises Marcus as I go for a second leaf. "It's a diuretic.'') And I learn about the dangers of the deceptively pretty yet bitter buttercup. Back at Marcus's house, he whips up the garlic with some soft cheese to create a moreish spread, and the tang of the three-cornered leek adds dimension to a slice of quiche.
All this activity is tiring. So I'm thankful that one of my experiences is my home for the night, Woodlands Country House at Treator near Padstow, a former naval hospital, now a friendly B&B run by Pippa and Hugo Woolley.
Here I enjoy comfortable lodgings and a first-class breakfast. But then Hugo is a chef. What's more, he's the author of B&B The Book of Breakfast and Brunch, so marmalade bars, Scotch woodcock and homemade lemon curd are among the cut-above fare only to be expected here.
More flavours are in store at a group tasting held at the Lindo family's award-winning Camel Valley Vineyard, followed by a superb dinner featuring potted local crab and Cornish megrim sole, accompanied by Camel Valley vintages, at Trehallas House, an 18th-century inn run by Alistair and Debra Hunter, just down the road from the winery. Rob has conveniently scooped these up as a double experience dubbed Taste of Cornwall.
Back on that beach, I mix up the site dance with some photography tuition from Chris Hewitt, a professional photographer who has tempered his globetrotting ways with the opening of the Picture and Coffee Gallery in nearby Wadebridge.
He's having a bit of a job trying to get me to remember how camera apertures work. "A large aperture would be used in low-light situations,'' he corrects me for the umpteenth time. Yet I still succeed in snapping some of the best photographs I've ever taken.
The views help. Up on the cliff we apply "the rule of thirds'' to compose a photograph across the bay; a stone wall sprouting sea campion provides a foreground with both colour and texture; the mighty rock stacks on Bedruthan's floor hold the centre, and the vast ocean beyond ripples away a final layer.
It's a beautiful view and, like the other experiences, it will remain a special memory.
- INDEPENDENT