Much smaller than Mallorca and less noisy than Ibiza, low-key Menorca is the Balearic island that can easily slip under the holiday radar.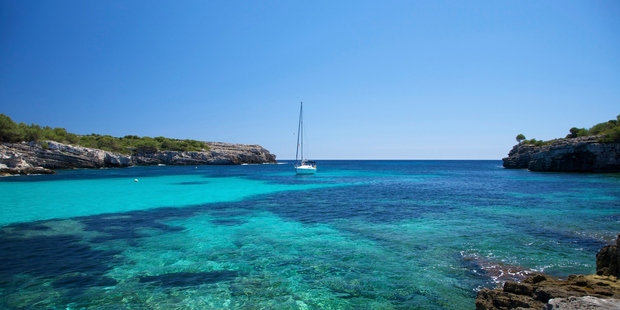 Menorca's main draw is its beautiful, mainly undeveloped coastline, with more beaches than Mallorca and Ibiza put together. Photo / Thinkstock
Menorca is a good destination for young families, thanks to its small resorts and mid-range hotels, and increasingly for walkers, since the CamI de Cavalls, the path around the island's coast, is now complete. Walk Menorca is a new company which offers guided walks along selected stretches of the path during the mornings and a hire car for exploring the island after lunch. A week in September starts at £540 (NZ$1060) per person, for bed and breakfast, excluding flights.
The capital, Maó (formerly known as Mahón), is on the island's eastern end, perched above one of the world's great natural harbours. Fifty kilometres away, at the western extreme is beautiful Ciutadella. The road between them (the ME1) is the island's spinal cord, and connects its three small rural towns (Alaior, Es Mercadal and Ferreries).
Turnings to the north and south lead to the handful of resorts and coastal villages. The ME1 also marks a geological divide between Menorca's ancient top half of red sandstone and its limestone southern half.
You can appreciate the contrast in landscapes from the top of Monte Toro, a short drive from Es Mercadal and the island's highest point. It may only be 358m above sea level but the views encompass the whole island.
Menorca wears its prehistory on its sleeve, with a scattering of interesting and accessible sites. TalatI del Dalt is 4km from Maó, next to the main road to Ciutadella. It was built by the Talayotic people, whose culture existed from 1500BC until the arrival of the Romans here in 123BC. They owed their name to their Talayots, cone-shaped stone structures, possibly watchtowers.
The enduring skills in working stone are also celebrated in the island's most unusual museum, Lithica, just outside Ciutadella. The sculptural spaces of a worked-out quarry have been planted with a sequence of striking gardens.
For three separate periods during the 18th century the island was in British hands, which has given it some quirky legacies. On the grassier fields of the interior you'll see herds of black and white Friesian cows, while in Maó you'll find elegant Georgian-style mansions, as well as a gin distillery which was introduced by the first British governor, Sir Richard Kane.
The holiday resorts are dotted around the 200km shoreline. The largest north coast resort is Arenal d'en Castell, with several large hotels around a perfect shell-shaped bay, while neighbouring Son Parc has the island's only golf course.
In the south, where the beaches are longer and mainly fine white sand, Cala'n Porter, San Toms and Cala' Bosch are similar purpose-built resorts, with Cala Galdana, backed by cliffs, enjoying the most attractive setting.
WALKING AND WILDLIFE
The whole island has been classified a biosphere reserve by Unesco because of its striking flora and fauna which include booted eagles, red kites, Egyptian vultures and the occasional osprey.
The best place for serious birding is the natural park of S'Albufera des Grau, between Maó and the lovely bay of Es Grau. It has a reception centre, a couple of hides and marked trails.
The historic trail El CamI de Cavalls follows the coastline and is suitable for horses and mountain bikers too. Its 20 sections average 10km. Those in the south are flatter than the more dramatic, challenging northern options.
BEACHES AND WATER ACTIVITIES
The white sandy beaches of the south have attracted development but there's usually an unspoilt bay close by. Cala Macarelleta, west from Cala Galdana resort, is a study in white and turquoise.
The north coast is more rugged but has beautiful bays such as Cala de Algaiarens, near Ciutadella. The Bay of Fornells is an almost enclosed body of shallow water ideal for learning to sail and windsurf. For diving and snorkelling, S'Algar Diving is in S'Algar's Paseo MarItimo, near San Luis.
DINING OUT
When in Maó, you should definitely try the mayonnaise, which was invented here, as well as the local cheese and, of course, the fresh fish and seafood. Good value lunch menus are available pretty well everywhere, though the island's signature dish caldereta de langosta, "lobster casserole'', can cost up to £70.
It's a speciality of the many waterside restaurants in the fishing village of Fornells, and in nearby Playas de Fornells, where the Café del Nord at Local Comercial 5 provides a very tasty £20 caldereta as well as a lovely sea view.
CITY CULTURE
Maó's centre straggles along a cliff above the prized deep-water harbour with its bars and restaurants. In the old town there are small plazas with striking 18th-century buildings, and a market. The monastery of San Francesc houses the Museum of Menorca. Ciutadella has an exquisite old town of cobbled, arcaded streets and churches and a harbour. Don't miss the Gothic cathedral and museum.
ACCOMMODATION
The Hotel Port Mahon at Fort de l'Eau 13 has high-season doubles with breakfast from £140. It's a 10-minute walk from the centre, as are the nearby Royal Apartments at Carrer Carmen 131 (apartment for four costs from £125, breakfast £5pp). The Hotel Tres Sants at Carrer San Cristóbal 2 is in the heart of old-town Ciutadella (doubles with breakfast from £110.
North-east of Ciutadella is Biniatram, a 500-year-old farm-cum-country hotel with pool and tennis court. It's a 20-minute walk to the pretty bay of Cala Morell. High-season doubles start at £118 per night, with breakfast an extra £8pp. Private villas and flats are available for rent across the island (Owners Direct).
- INDEPENDENT