An ancient tapestry reveals a distant family connection, writes Jim Eagles.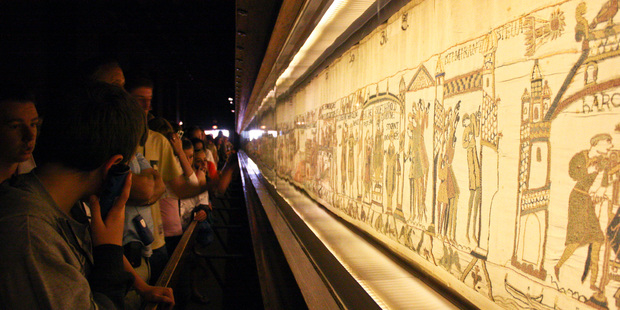 I walked in the dim light along the line of fighting Saxon and Norman warriors looking for the man who may - just may - be my great-grandfather, 50 times removed.
Arrows flew, spears prodded, axes hacked, swords swung and men and horses died as the armies of King Harold and William the Conqueror contested the sovereignty of England.
Then, suddenly, there he was, seated on a black horse and just a bit late in bringing his sword down on an axe-wielding Saxon: Engenulf de l'Aigle, also known as Engenulf d'Aquila.
Behind him the pictures in the great Bayeaux Tapestry, sewn to commemorate William Duke of Normandy's invasion of England in 1066, showed three horses crashing spectacularly to the ground and the border below was a line of dead men.
Unfortunately, I knew great-grandad was about to join them. Engenulf is one of just 32 people known to have taken part in the Battle of Hastings and the only Norman lord to die in the fighting.
But his sons survived to bring the name Eagles to England and so possibly - a possibility strengthened by a DNA test on one of my English cousins - he is my remote ancestor.
When I mentioned this to Mark, our tour leader, he was delighted. "Leave out the 'possibly' and you'll be able to drink calvados free anywhere in Normandy."
Not quite. I did enjoy quite a bit of calvados - apple brandy - during the Normandy leg of our Treasures of France tour. But I had to pay for it myself.
Still, it was pretty cool to find this family connection and I spent some time staring at the scene, in the process noting signs of the tapestry's great age: lots of little holes, stains and numerous repairs. But considering the life it has led - confiscated during the French Revolution, seized by Napoleon, stolen by the Gestapo - it's in remarkable condition.
The tapestry - not actually a tapestry but an embroidered linen cloth 70m long - was for centuries thought to have been sewn by the ladies-in-waiting of William's wife Matilda.
But later research suggests it was commissioned by the Conqueror's half-brother, Bishop Odo de Conteville - shown swatting Saxons with a hammer because it would be unseemly for a man of the cloth to shed blood - and produced at an abbey attached to Canterbury Cathedral in England.
Now on display in an old seminary, it was originally housed in the great Bayeux Cathedral built by Odo on the site of the church where, according to the Norman version of events, Harold swore on some sacred relics to support William's claim to the throne of England.
Odo's cathedral towers over the surrounding buildings in a spectacular statement of power, spires and towers piled on top of a vast nave filled with stained glass windows, impressive murals and carvings - including, inevitably, one of Harold making his oath of allegiance.
Bayeux itself is a charming place to wander around, with its delightful cobblestoned lanes, lots of lovely old half-timbered houses and cafes offering bad coffee and delicious crepes.
Thanks to one of history's more remarkable coincidences, the area's other major attraction is a cross-channel invasion which went the other way. As guide Mark put it, "It's pretty amazing to think that the Norman conquest of England was the biggest seaborne invasion in history - in western history at least - until the D-Day landings in 1944".
Mark took us to Omaha Beach, one of five Allied landing spots, where a memorial stands on the white sands. All along the coast, old German bunkers peer out of the cliffs. A restaurant calls itself "L'Omaha" while a hotel is "D-Day House". Several places have American flags flying.
We passed a few museums with old tanks parked outside. Mark said there were "at least 100 different D-Day museums in the Normandy area".
Nearby, at the Normandy American Cemetery, endless rows of white crosses mark the graves of 9387 American soldiers and commemorate a further 1500 whose bodies were never found.
The museum attached to the cemetery is, it occurred to me, a modern version of the Bayeux Tapestry, telling the heroic tales of the victors.
Indeed, as I watched a video of an American veteran recalling the fighting at Omaha Beach I couldn't help thinking of the Norman knight in Rudyard Kipling's Puck of Pook's Hill recalling, "At Samlanche, over the hill yonder" - he pointed southeastwards - "we found Harold's men. We fought. At the day's end they ran. My men went with De Aquila's to chase and plunder, and in that chase Engerrard of the Eagle was slain, and his son Gilbert took his banner and his men forward."
Not much has changed really.
CHECKLIST
Getting there: Cathay Pacific flies every day from Auckland to Paris via Hong Kong. For schedule and airfare information check cathaypacific.co.nz.
Getting around: Trafalgar's eight-day Treasures of France guided holiday starts and finishes in Paris and is priced from $2550 a person twin share.
Jim Eagles visited Normandy with help from Cathay Pacific Airways and Trafalgar.