Liz Light visits Vienna and learns about the man behind the famous Kawakawa toilets, and the soon-to-be-built Whangarei Arts Centre.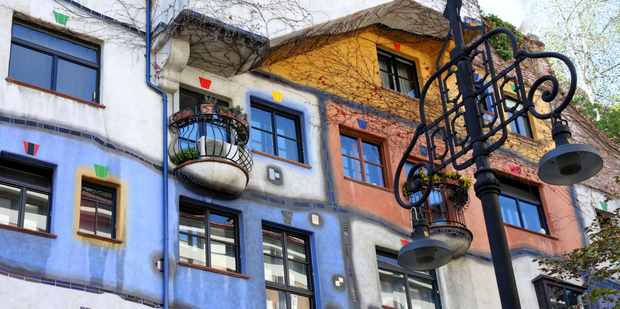 Frederick Hundertwasser, an eccentric Austrian artist, ecologist and visionary, put the small Northland town of Kawakawa on the map when he designed and supervised the building of its public toilets. Now tour buses stop here so passengers can use the world's most beautiful loos, Europeans in campervans arrive in swarms and backpackers stop for coffee and a pee.
The knock-on effect of the toilets is that Kawakawa hums with tourists. Old buildings have been spruced-up and there is a Hundertwasser knick-knack shop and a cafe or two inspired by his style.
These toilets and the alternative koru flag for Aotearoa (that he designed but most people have forgotten about) are all we have of one of Europe's foremost artists and architects of the 20th century.
Hundertwasser, recognised in Europe and famous in his home city of Vienna, came to New Zealand in 1973 when he was 45, to accompany his first exhibition here. He delighted in the informality of this place and bought a chunk of land on the edge of Waikare Inlet, built a house, became a citizen and adopted Kawakawa as his hometown.
He enjoyed his anonymity; no one seemed to notice his bright, slightly odd clothing and if they knew that he was famous in Europe, extremely so in Austria, they didn't care.
In Vienna, Hundertwasser is big, big enough to be the only Austrian artist with a large museum, complete with gift shop and an internal tree-surrounded cafe, devoted to his work. Museum Hundertwasser, in a converted furniture factory, has many galleries that include his paintings, graphic works, applied art, architectural designs and commentary on his ecological ideas.
I've always liked his paintings but have seen only prints of them and, at the museum, I'm surprised by their size; some of them take up whole walls. They are all brightly colourful often including red that makes them sing on the dark green background upon which most of them hang. He often incorporated gold so that, in the originals, they glow.
As I explore the museum I learn more about the man and his work and realise that other parts of the world have embraced his talent while we, when New Zealand had so much of it offered, accepted only the Kawakawa toilets, and then, I suspect, it was because his services were free.
There are 14 Hundertwasser buildings in Austria, 10 in Germany, four in Japan and others in California, Netherlands, Spain and Switzerland. Some are extensive architectural projects that include small villages and large apartment complexes. It's his compliment to New Zealand that while he was happily supervising the construction of the toilets and helping Bay of Islands College kids make tiles for it, a large incineration plant to his design was being built in Japan and a railway station in Germany.
Hundertwasser House, his first major architectural project, completed in 1985, is a 10-minute walk from the museum. The building has 52 apartments. It's a colourful, curvaceous, imaginative and multitextural creation; a treat in an area of dull, linear, post-War building.
The walls intercept at unusual angles and are finished with patterned tiles, shiny metal and bright colour over plaster. It has arched verandas, snaky balustrades and mirror-glass windows that reflect nearby trees. Its roof is covered in earth and the complex includes 250 trees, some of which grow inside with their branches extending out windows.
I puzzle over why Hundertwasser is so revered and respected in Austria but doesn't gather the same acclaim here, his part-time home for 20 years. It is, I conclude, because the artistic and intellectual tradition from which he came is not widely understood here.
His greatest inspiration came from the Viennese painters Gustav Klimt and Egon Schiele. Coincidentally, 2012 is a celebration of Klimt's 150th birthday and Vienna is making a huge fuss of this. I take a tram to Belvedere, once a Baroque palace and now a national art gallery, and home to the biggest collection of Klimt's work.
Young, starry-eyed romantics sit on the floor and admire his most famous painting, The Kiss. It's ethereal, exquisite, and the flat, mosaic-like background makes the more realistic hands and faces of the two figures stand out. As I look at it, for one slightly sickening moment, it seems that he is strangling her. It's an ambiguous comment on love.
This, and Klimt's later work, feature curves and circles, the use of gold leaf, abstract patterns, and have flat mosaic qualities that break away from the realism of late 1800s art.
The Leopold Museum, in central Vienna, holds the world's largest Egon Schiele collection. Schiele, a talented, wraith-like, artistic genius, a protege of Klimt, was felled, aged 28, by the Spanish flu. He is more famous for his scrawny and semi-grotesque portraits but it's his landscapes and village scenes that inspired Hundertwasser.
"He painted houses as if they were humans," Hundertwasser is quoted as saying, and really got under their skin. Schiele's landscapes, too, have a moody beauty. Hundertwasser's glowing, abstract, nature-focused art is a smooth, logical next step.
Hundertwasser whisked into New Zealand with his wonky, bright, jewel-like paintings, his loathing for straight lines, and his ecological ideas while we were immersed in the tortured darkness of Colin McCahon and Ralph Hotere. We didn't understand him or the artistic background from which he came.
Mostly, we ignored him and he was able to enjoy the simple life on his land and wander around Kawakawa untouched by Viennese fame. And, when Hundertwasser died, unexpectedly, aged 71, his body was buried under a tree at his Kawakawa home.
It's thrilling to return from Austria and learn that, finally, on May 29, the Whangarei District Council approved the building of an arts centre Hundertwasser designed in 1993. The straight-line-less building is amazing. It will be down near the boat harbour and will give this otherwise drive-past city something to stop for.
But it has been a long struggle for the council (20 years on and off) to get the project accepted with uninspired members grumbling the money should be spent on footpaths and sewage and vociferous ratepayers resenting that the money is spent at all. These detractors and grouches have no idea how lucky they are that Hundertwasser chose their city.
TRAVELLERS' TIPS
Getting there: Cathay Pacific flies from Auckland to Frankfurt every day via Hong Kong and offers easy connections on to Prague, the starting point of the Trafalgar At Leisure holiday.
Stop over: Hong Kong Sky City Marriott Hotel is close to the airport and Disneyland. Or, in Hong Kong, JW Marriott is in the heart of the city, with great views and shopping.
Liz Light visited Vienna on Trafalgar's At Leisure 10-day Prague, Vienna and Budapest guided holiday. At Leisure holidays are at a relaxed pace with two or three nights in each location and plenty of time to explore.