Myanmar's popularity is booming, but a holiday there has snags.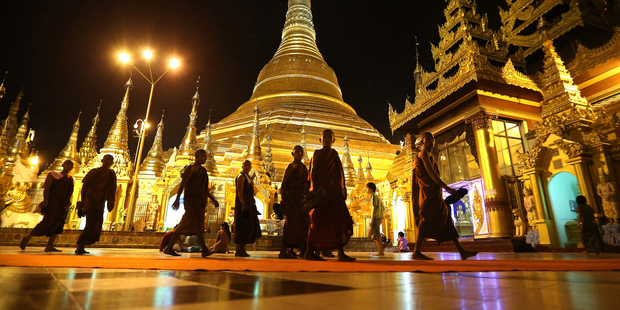 The hotels are full or eye-wateringly expensive, creased dollar bills are rejected and credit cards are widely refused - welcome to Myanmar, Asia's next big tourist destination.
The South-east Asian nation, once shielded from international eyes by a brutal military junta and a travel boycott supported by democracy leader Aung San Suu Kyi, has become a must-see for many travellers.
"Because the country has been so isolated, the deeply Buddhist 'Land of the Golden Pagoda' resonates with a strong sense of place, undiluted by mass tourism and warmed by genuine hospitality," The New York Times said in January.
It ranked the country third on its list of this year's top 45 destinations.
But the influx of tourists is proving a challenge to a country where political reform has not been matched by infrastructure development.
The few hotels in Rangoon offering international standards of business accommodation have begun to charge up to several hundred dollars a night for rooms that were half the price or less a year ago.
Even hoteliers admit the situation is unsustainable.
"I don't think Burma (Myanmar) is ready yet to cope with the high demand of mass tourism," said Thomas Moons, front office manager at the colonial-style Governor's Residence hotel in Rangoon.
"In terms of availability and accommodation that we're able to offer, it's just not enough to cope with demand.
"People might think that if they come to Burma they will have a cheap holiday when it's completely the opposite."
While few doubt Myanmar's appeal to tourists, some people returning to the country say they enjoyed it more before the hordes arrived.
Klaus, a 61-year-old German travelling with his wife in the remote western town of Sittwe, says they have been disappointed by their third trip to Myanmar.
"There are too many people this time," he says.
"People in hotels used to be so nice - smiling and taking care of us - but they don't have time any more... and hotel prices have gone through the roof."
International arrivals have rocketed, with almost 365,000 foreigners coming to the main city, Rangoon, last year - up 22 per cent on the previous year and almost double the figure for 2003.
This year, more than 175,000 came between January and April, up from almost 130,000 in the same period of last year.
The Ministry of Hotels and Tourism says the city has only about 8000 hotel rooms.
At Rangoon's famed golden Shwedagon Pagoda, the slow, circular promenade around the majestic golden spire was until recently mainly the preserve of local couples, children and burgundy-robed monks.
But recently foreigners have at times appeared to outnumber locals, their cameras seemingly searching for the rare frame that does not include a posse of other visitors.
Phyoe Wai Yar Zar, of Myanmar's tourism board, says the influx of visitors is causing "unprecedented congestion" at hotels, especially in Rangoon, and he suggests visitors should look at other destinations in the region.
Westerners used to the relative ease of travelling in other South-east Asian countries, such as neighbouring Thailand, are being caught out by other symptoms of Myanmar's long years of isolation under military rule.
There are almost no places where credit and debit cards or travellers' cheques are accepted, so visitors must bring all the money they need for their trip with them in US dollar bills.
While recent reforms mean more official moneychangers are competing with the black market, the dollar bills must be crisp and clean or they will be rejected.
"There have been some tourists who arrived with insufficient information and did not bring enough cash for their stay," says Phyoe Wai Yar Zar.
The government is scrambling to improve tourism infrastructure by building new hotels and upgrading transport links at the main tourist destinations.
Travel tends to centre on four main sites connected by internal flights - Rangoon, Inle Lake in eastern Shan State, the temples of Bagan and the royal capital Mandalay.
- AFP