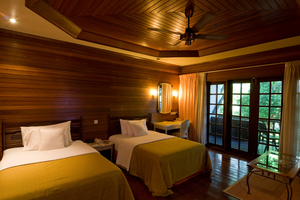 Holidaymakers are more likely to get hot under the collar about heat in their rooms than about getting a good view or fine food, according to a poll.
Air conditioning was the most important requirement for those researching holiday accommodation, a survey by online travel agency sunshine.co.uk found.
After air-conditioning, the next most important considerations were a sea view, a good pool, good food and child-friendly conditions.
The poll of 1049 adults who had been abroad in the past year also showed those searching for holidays spent an average of 4.5 hours a week looking at destination and accommodation possibilities online.
The average time spent coming up with a final decision on a foreign break was six weeks, meaning that holidaymakers spend around 27 hours on searches.
"You shouldn't over-think things when searching for your next destination or hotel to visit," sunshine.co.uk co-founder Chris Clarkson said.
"You can end up overcomplicating things by being too picky, and then you just end up going round in circles.
"If you aren't just returning to a destination that you know and love, and are searching for somewhere new, ask family and friends for their recommendations and use that as inspiration."
- PAA