A trip to Bali is also a social lesson for the whole family, finds Donna McIntyre.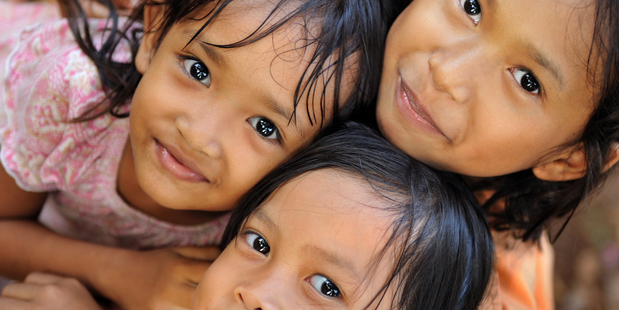 Bali appeals to families as an affordable destination offering a cultural difference. But you quickly realise the reason meals and items cost so little - mains for $1.30 at markets and a souvenir Bintang singlet as little as $3 - is that the Balinese work hard for what we regard as low wages.
Intrepid Travel has set up a foundation to assist specified community projects and beneficiary organisations in the countries it visits.
Beautiful Bali groups can lunch at the Senang Hati Foundation near Ubud, with the money going toward helping disabled Balinese, many who contracted polio as children and who now run the restaurant and sell their art work.
Or visit the Bumi Sehat birthing and health centre just outside Ubud, run by CNN woman of the year Robin Lim, whose team makes medical care accessible to low-income families.
Tip for good service, but don't give handouts. The Balinese don't like the practice; it strips them of their self-esteem.
Our tour guide explains that the average Balinese thinks all tourists are rich because so few Balinese can afford to travel for pleasure. That's why a tiny minority regard tourists as easy game when it comes to shortchanging or overcharging.
To get the most out of your family trip, learn some Indonesian words and phrases. When (not if!) we return we'll make the effort to learn more than the limited "hello", "goodbye" and "thank you" we managed.
And speak to the children and adults who take the opportunity to practise their English, "Hello, where you from? What's your name?" Your replies will be rewarded with infectious smiles and you'll learn more about their way of life. And take along photos of where you live, or show them images on your digital camera.
I also recommend indulging in a massage as a family treat. Bali's massage prices range from 55,000 rupiah ($7) in the less touristy places to 120,000 for an hour at the street salons; more at a hotel.
This shared family experience proves hilarious, and proof the boys watch too much TV when I hear them talking after a massage.
They both don't like the masseuses "cracking" their finger and toe joints. Our 16-year-old tells our 13-year-old he can avoid this by asking for "a happy ending".
I take Jamie aside.
"If you ask for a happy ending, you'll find they pull more than your fingers!"
Also, encourage the kids to barter - they can have fun asking for student prices. But they need to know bartering is not a game; if they agree on a price they are expected to complete the deal - even if it is a dodgy vendor selling plastic "bone" carvings down a side street, like the man my boys bought from.
This adventure has made our family more conscious of things we take for granted, such as our schooling and health system, opportunities not available to all Balinese.
When we talk about Bali's low wages, our kids reckon at first it is comparative; that although the Balinese earn much less, their living costs are also comparatively low. But our tour guide tells us 50 per cent of the average Balinese family's income goes on food, whereas in New Zealand and Aussie the figure is about 20 per cent.
So sure, treat your kids to the adventure parks, enjoy the snorkelling, trekking and rafting, but also encourage discussion to raise their awareness of the social, environmental and cultural issues children growing up in Bali face. They will see their world from a new perspective.
Donna McIntyre travelled to and around Bali with assistance from Intrepid Travel and Air New Zealand.