Canada's largest city revels in summer with its lake breezes and beaches, says Susan Griffith.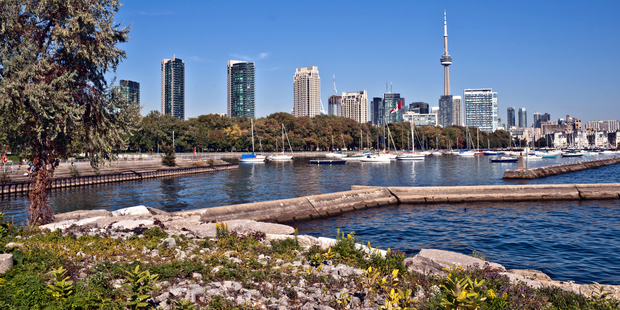 Canada celebrated its 145th birthday last month, making it an apt moment to audit how Toronto is managing the preservation and transformation of its heritage buildings.
This summer is one to celebrate the ongoing creative rejuvenation of the city's waterfront and adjacent old town, because less than a year ago the programme was in mortal danger.
Over the past 20 years, the city fathers have been imaginatively transforming the concrete piers, abandoned silos and crumbling warehouses of the industrial waterfront into welcoming public spaces. Enter the current mayor, who for years has been trying to seize control of waterfront land for commercial development, putting the entire process at risk.
The scheme was unanimously defeated in the council chamber last September, which means that visitors and locals can relax once more, and potter along the waterfront on a hot summer's day, cooled by Great Lake breezes.
Start at the Toronto Music Garden on the shores of Lake Ontario, designed by the cellist Yo-Yo Ma, who was invited by the City of Toronto to map a garden on the theme of Bach's first cello suite. Free concerts take place every Thursday at 7pm and on Sundays at 4pm throughout the summer.
Look west across a basin of water to glimpse eerie sculpted figures huddling under enormous malting silos. These commemorate the disembarkation at this very spot of 20,000 famine-gnawed Irish immigrants around 1847 (though the area is currently closed for improvements).
Proceeding east along Queens Quay, the stop-and-start Waterfront Trail skirts slips and moorings, passes undulating pedestrian decks and restaurant boats (best avoided), and caters for joggers and buskers.
Within 10 or 15 minutes the sign for the unlovely Redpath Sugar Refinery will come into view, hiding an unexpected urban treat. This is the third summer that a load of sand has transformed a carpark into Canada's Sugar Beach, featuring 150 white slatted Muskoka chairs under pink umbrellas, where Torontonians come to picnic and sunbathe. Swimming is not permitted but you can cool off in the fountains that shoot out of the pavement.
Across an inlet, the sugar refinery still receives shiploads of raw sugar from the Caribbean, and contains a free museum which is open on weekdays from 10am-noon and 1-3.30pm.
Heading directly away from the harbourfront along Lower Jarvis Street, it will take less than a quarter of an hour to reach the St Lawrence Market - voted the best food market in the world by National Geographic.
Housed in an elegant historic building at the corner of Front and Jarvis streets, which was saved from demolition in the 1970s, this cherished Toronto institution represents the city at its cosmopolitan foodie best. The South Market is open every day except Sunday and Monday, whereas the Farmer's Market in the north building starts at 5am on Saturdays only and winds down after lunch.
Exiting into Front Street, look west to take in a quintessential vista of the 19th-century wedge-shaped Flatiron Building crouching valiantly under Mies van der Rohe's Toronto-Dominion Centre skyscrapers in the downtown financial district and the mighty CN Tower beyond.
A short block south brings you to the Esplanade, which at one time marked the shoreline of Lake Ontario before land reclamation pushed the edge of the city southwards.
Walk due east for 10 minutes to reach the vibrant Distillery District east of Parliament Street. The 19th-century Gooderham and Worts Distillery has been superbly renovated and turned into a unique pedestrian zone with independent shops and cafes, a brew pub and art spaces.
Stop at Balzac's Coffee Roasters for a proper espresso. Cobbled lanes are lined with enticing shops such as Black Bird Vintage Finds in Building 57 (look for jewellery made from old typewriter keys) and a fantastic chocolatier, Soma, where a C$6.50 (NZ$8) bag of nut clusters is an unmissable indulgence.
To extend your waterfront experience, walk or take a taxi to the bottom of Bay Street to catch a ferry to Toronto Island, which lies less than 15 minutes offshore.
Daytrippers will be streaming back to the mainland, but Ward's Island is a lovely evening destination for a stroll or bike ride along the boardwalk, a drink or dinner in the lush shady garden of The Rectory Cafe or even an overnight stay at Swan's End Guest House which overlooks a lagoon on Algonquin Island with thrilling views across to the city's night skyline. Ferries run till 11.45pm at weekends and a return ticket costs C$7.
Les Louises cafe, which opened last year in the foyer of the Young Centre for the Performing Arts in the Distillery District, is a great place for a soup, sandwich or salad lunch amid a quirky clientele. (I saw an arty young man knitting a jumper.)
Against the Grain Urban Tavern, next to Sugar Beach, offers superior pub food and a good beer menu. A sampler flight of four artisan beers for C$6.50 will help you choose one for a session on its glorious lakeside patio.
On summer weekends the Harbourfront Centre features free concerts, films, outdoor dancing, an ethnic marketplace, and World Cafe with changing food themes.
- INDEPENDENT