Rosie Walford follows the sun far from the madding crowds.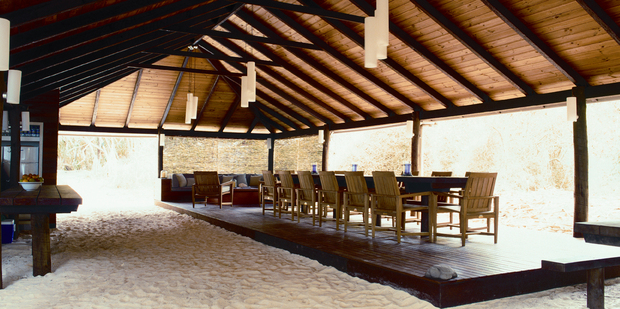 If you ever get the chance, be one of the lucky few to stay on Wilson Island, a pristine coral cay right on the Great Barrier Reef. Tiny, shiny and alone in the blue, this speck of land houses six state-of-the-art luxury tents, one longhouse for eating or lounging and one talented Italian chef. That's all, on the man-made side of things.
The designers of this little glam-camp have mastered both comfort and pared-back aesthetics. But sitting in the middle of a natural wonder of the world, Wilson's chic architecture takes a modest back seat. Here on the tropic of Capricorn, in hot water and intense sunshine, evolution is in overdrive. Anything human is outshone by nature.
Slipping underwater, there's a riot of peculiar life. Tubes with frills, fish with snouts, clams with purple velvet lips. There are towers and trees of coral. Colonies and shoals.
During my first swim, I was entranced by these psychedelic lifeforms and lulled by snorkel breathing.
Suddenly two manta rays appeared in my face, massive, mottled like leopards, horned - and peering at me. Adrenaline surged as my gaze ran metre by metre down a menacing tail. Only as the rays idly curled their magnificent wings and glided into obscurity did I remember reading that these huge beasts are merely curious about people, not hungry.
On land too, the creatures have dominion. Noddy terns nest in their thousands around the tents. Chattering at full pitch all day, their tails fan spectacularly against the sky as they dodge and skim past you in flight. By night, muttonbirds appear from burrows underfoot, shrieking. They fly clumsily into the longhouse, and sit recovering on the sofas after rough encounters with the walls. These fearless animals clearly wouldn't last long outside a national park.
Each sunset we'd gather on the beach for champagne and cheese. One evening, swooping gulls alerted us to a brood of baby turtles making the dash to water from their nest. With flailing little flippers, these adorable hatchlings were clearly irresistible canapes for the birds. We abandoned our drinks and chaperoned some babies to the sea, only to see our proteges gulped by reef sharks who patrol the shallows. On learning that only one in a thousand hatchlings makes it to adulthood, we took solace in cold champagne.
Wilson's minimalist, open-sided longhouse serves up unbelievably sophisticated food. I'd have been impressed by tender kangaroo, chargrilled chicken and succulent seafood - but our chef rustled up fragrant purees, brulees, and even sorbets from his camp kitchen of gas barbecue and icebox fridge.
We brewed our own cocktails at the well-stocked open bar, and had huge fun getting to know eight other castaways - Australians who were there, like us, for three nights - proposing marriage, celebrating birthdays, and preparing for big events.
After dinner, we heard scuffling on the beach. A leatherback turtle had hauled herself out from the depths, perhaps having travelled 12,000km to lay eggs in this specific place. These creatures soar as elegantly as eagles in the sea, but become tragically cumbersome and vulnerable on land.
Heron Island, where we'd switched from helicopter to boat, was originally a turtle cannery: 250 turtles a night would swim across whole oceans to nest in their own birthplace, and end up as soup. To witness these fragile giants is to immediately feel the importance of protecting them.
So here we luxuriated, pampered yet left to ourselves amid outrageous wildlife.
Once we'd walked the island's perimeter there was nothing major to be done. Without electricity or the possibility of outside contact, we chatted, read and gazed.
My eyes fell in love with bizarre pandanus trees and progressions of navy ultramarine and turquoise on the reef - this view from the feathery duvet uninterrupted by glass or even nets. In its exquisite, unpeopled simplicity Wilson invited us to connect with ourself, each other, and awe itself.
At first, returning to Heron Island assaulted the senses: 300 visitors instead of 12! Buffet queues and canned music! Actually, it was well designed, and perching on the stunning Wistari reef, Heron offered me the finest of Great Barrier Reef scuba dives.
In an all-glass spa in surreal she-oak forest, my lomilomi massage was also world-class. Later, the passionate resident turtle expert offered mind-blowing context for the wildlife I had seen.
To visit a delicate coral world and witness endangered species is amazing. To do it in Wilson's luxury and seclusion is privilege itself.
QUEENSLAND ISLAND LUXURY
* Exclusive Wilson Island has six luxury tents with kingsize beds and reef outlooks plus private solar shower. All food, unlimited drinks, toiletries, robes etc included for A$1100 (NZ$1407) per night.
* Heron Island four-night packages are from A$800 per person.
* Heron-Wilson four-night packages are from A$975 off-peak.
* For talks on turtles by Tim Harvey of the University of Queensland Research Station on Heron: fly from Brisbane to Gladstone, then it's a 30-minute helicopter ride from Gladstone to Heron Island: A$370 with HeliReef (recommended at least one-way for sheer beauty) or take a public launch from Gladstone to Heron Island for A$100.