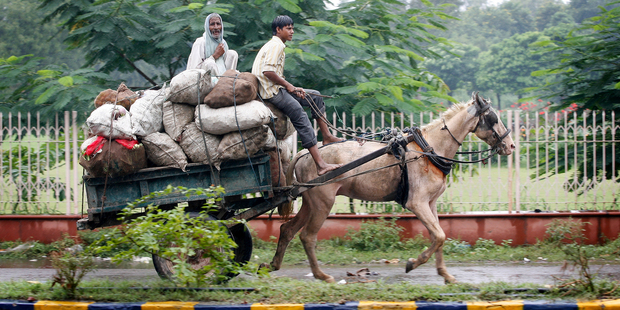 Wear lightweight and modest clothing in India. Photo / Greg Bowker
My husband and I - aged 70 and 62 - are going on a tour to India. Do you have any special tips? I got sick four years ago on a tour of Turkey, and am a little nervous of the water and food in India. Is it appropriate to take things with us for the children we might meet, eg storybooks? We would be discreet about giving things away.
- Deborah
Lonely Planet's Sarah Bennett and Lee Slater write:
India can be a bamboozling destination, especially for the first-time visitor, so an organised tour is a good idea. Before you go, read about the places you will be visiting. As well as on-the-road information, Lonely Planet's India and Rajasthan, Delhi and Agra guidebooks will prepare you for what you'll experience. They also provide advice on cultural etiquette, and staying safe.
Here are a few key things to consider. Comprehensive travel insurance is a must, as are the right vaccinations - check in with your GP at least six weeks before departure.
Pack light but well, not forgetting sunscreen and sunglasses, first-aid kit, earplugs and a small torch for poorly lit streets. Take lightweight but unrevealing clothes - covering up is respectful, and essential at holy sites. A silk sleeping bag liner may also be useful, especially on overnight train trips.
Avoid tummy upsets by eating only freshly cooked food, skipping shellfish and buffets, peeling fruit, and eating in restaurants with a high turnover of customers. Never drink tap water. Bottled water is generally safe, but check the seal is intact. Avoid ice unless you know it has been made safely, and say no to street-stall juices that may have been watered down. Your own supply of toilet paper and wet-wipes can be a godsend.
Theft is a risk in India, as it is anywhere. Keep your money and passport in a concealed money-belt and store some cash (US$100 bill or rupee equivalent) away from your main stash, just in case.
It's admirable to want to donate something, but supporting local schools, clinics or businesses may be more constructive.
American road trip
A good friend and I want to do a road trip around the United States. Are there options to extend the three-month visa period? We were thinking of going in autumn or spring. Is there an advantage to either option? Would you suggest a campervan or buying a car? And what are some must-dos for our time there?
- Jo
Lonely Planet's Sarah Bennett & Lee Slater write:
If you travel to the US on the Visa Waiver Programme, you can stay for no longer than 90 days. For a longer trip you will need a B-2 type tourist visa - visit newzealand.usembassy.gov.
Spring and autumn are good times to travel with mild temperatures across the country. Buying a vehicle is usually more hassle than it's worth; renting is the way to go. RVs or campervans are a great way to travel, but pricey. If you're on a tight budget consider a combination of compact car and tent.
There are thousands of places to camp; see recreation.gov and camping-usa.com.
Lonely Planet's USA's Best Trips has 99 themed itineraries to whet your appetite, and Discover USA's Best National Parks will help you trace a route through the nation's most spectacular scenery. We heartily recommend you buy a Rand McNally USA road atlas.
Road-trip resources include driving-distances.com, roadtripamerica.com and byways.org.
WIN A LONELY PLANET GUIDEBOOK
Email your questions to travel.info@lonelyplanet.com and they'll be answered by Lonely Planet's experts.
In addition, the best question each week will earn a Lonely Planet guidebook. Add your postal address and the guidebook you'd like (see lonelyplanet.com).
Not all questions are answered and Lonely Planet cannot correspond directly with readers.