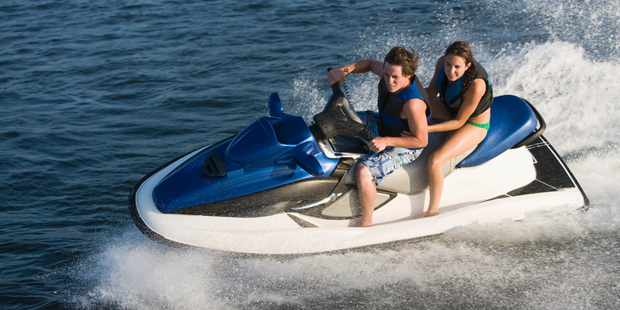 Spray whipping out behind us, hair flying in the wind, I was glad my 12-year-old daughter could drive. I had frozen at my jet-ski controls and given up, feeling out of control of this counter-intuitive machine that rides better the faster you go.
I hit the wake of the ski in front, being ridden by my husband and son, and the bumping made me want to slow down, but jet skis aren't made for slow. They feel loose and wobbly (even though our excellent instructor Jamie assured us our models couldn't flip).
Speed up, Jamie told us. The machine will skim across the bumps.
I was worried about Laura on the back, so my husband Grant took her to let me practise.
The next thing I see is Laura flying off the back and into the Maroochy River, but she comes up smiling and climbs straight back on.
Jamie takes her now, sitting her in front while he drives, and then I look across and his hands are at his sides and Laura is in control, grinning.
After that, there was no stopping her. She took turns driving me and Grant, and her 15-year-old brother Jed sped around the circuit in front of her as though he'd been driving jet-skis all his life. Oh for the fearlessness of youth.
It was the biggest rush we'd had in ages.
The Sunshine Coast has one theme park (Aussie World) compared to its brash neighbour the Gold Coast two hours south, but hurling around the Maroochy River on top of a 130 horsepower engine is as good as any roller coaster.
Next time I'll be braver.
Further information: Maroochy River Jet Ski Hire and Tours is at Bradman Ave, Maroochydore (look for the the little orange cabin on the water).