The Olympics start in just over a month and it's not too late to get there. Pam Neville reports.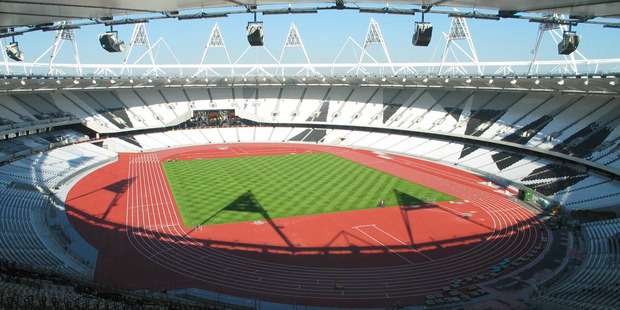 Olympic Stadium in London, with track and turf down. Photo / LOCOG
In London, the Olympic Games have been playing second fiddle to the Queen in recent weeks. It will be hard to beat the flotilla of 1000 boats that floated down the Thames earlier this month, led by Her Majesty aboard the Royal Barge, and including, back in the ranks, a waka.
The Olympics opening ceremony on July 27 will have its hands full to match the pomp and glory of the Diamond Jubilee Pageant, and the excitement the pageant has wrought in London as the nation celebrates the Queen's 60th year on the throne.
But now the pageant is sailing into the sunset, Olympic fever is rising. There are rumours the opening ceremony will include a James Bond segment, and that 007, actor Daniel Craig, has been secretly knighted at Buckingham Palace in preparation. Bond is 50 years old this year - the first movie, Dr Who, came out in 1962.
First up though - two days before the opening ceremony in London - New Zealand has the honour of kicking off the first event. Our women's football team plays Great Britain in the Millennium Stadium in Cardiff on July 25.
The venue
Some events are scattered around venues throughout England, Scotland and Wales, but the main place to be is Olympic Park, a 2.5sq km site in East London. It houses an 80,000-seat Olympic stadium as well as the velodrome and aquatic centre. There is parkland, wetland, an art walk, eating areas and a sculptural tower with glass lifts which ascend to a view over London. Post-Olympics, the park is supposed to revitalise the East London economy. The nearby athletes' village will become a residential area.
Forming an entranceway to Olympic Park is the Stratford Westfield shopping mall, the biggest shopping centre in Europe. It is difficult to move in the mall without seeing someone trying to sell the strange-looking, one-eyed Olympic mascot called Wenlock, and the John Lewis department store reckons it is selling an Olympic pin badge every three seconds.
A brief respite from Olympic commercialism is available at a Kiwi-owned-and-operated cafe called Grind, on the ground floor of Stratford Westfield. Look for the silver fern and Maori motif on the wall.
Tickets
In theory, it's not too late to buy tickets but they don't make it easy. If you're prepared to buy a package including travel and accommodation, you have a better chance. New Zealanders must buy tickets through the NZ Olympic Committee, which has appointed Harvey World Travel and United Travel as its agents. Go to the Olympic Committee website for ticketing information and links to both agents' sites.
I've tried to buy a ticket to the aforementioned football match in Cardiff on July 25. At last report, only 10,000 tickets had been sold in the 74,000 seat Millennium Stadium. But neither of the New Zealand agents has tickets available, and the British ticketing site won't deal with me because I'm not resident in the UK. Tickets, if I could find a way of buying one, cost around $40 to $80.
On the day
Last-minute tickets will apparently be available, but no one seems to know when or where. The Olympic organisers have been criticised because of secrecy on ticket sales and they are carefully drip-feeding information. Worth looking out for are "rover" tickets, which, for $20, will allow entry to Olympic Park but not specific venues. Once inside the park, huge screens will broadcast the events to 10,000 fans in an outdoor amphitheatre. Apparently we'll be told soon how to buy "rovers".
Free events
Don't despair if you are ticket-less. Just being in London will be exciting, and they can't ticket people viewing from footpaths and parks. The marathon course is around the streets, passing by the Tower of London, Buckingham Palace and St Paul's Cathedral. Men's and women's road cycling is also around public areas of the city, as are the walk events. The route of the men's and women's triathlon passes through Hyde Park (see Speakers' Corner and the Diana Fountain while you are there). Some of the starts and finishes in The Mall require tickets, but major parts of these races are free. You don't need a ticket to see the start and finish of men's and women's individual road cycling time trials at Hampton Court Palace in Richmond, near London. The whole event is free.
The beach volleyball events at Horse Guards Parade, by Whitehall, is ticketed but you might get a peek through a railing. The Prime Minister will look down on it from 10 Downing Street.
Big screens
The BBC is coming to the party with huge outdoor screens. The most popular London screens will be in Hyde Park and Victoria Park, which is next to Olympic Park in East London. Live screening of the major sporting events, interspersed with entertainment, are expected to make the big-screen locations the places to be, day and night.
Accommodation
Yes, beds are available, although some reports suggest prices have trebled. The Holiday Inn beside Olympic Park has been booked for a year but other hotels have vacancies. At the top end of the scale, The Langham in the West End still has rooms. A standard room will set you back an eye-watering $800 a night, about $300 more than for nights on either side of the Olympic Games. But the West End, usually favoured by New Zealand tourists, is not the best place, given that Olympic Park is in the East. I usually recommend The Hoxton in Shoreditch as a mid-priced East End hotel. Access to Olympic Park is easy enough, but the prices appear to have doubled for the Games, to as much as $500 a night. For other options, including bed and breakfast and homestay, check out visitlondon.com.
For the cheapest option, consider camping. Camp In London is a pop-up campsite in Walthamstow, East London, 10 minutes by free shuttle bus from Olympic Park: $80 a night gives you a pre-erected tent; pitch your own tent for $30 per person. Hope for better weather - April in London was the wettest ever, and May brought record low temperatures.
Travel around London
Who knows? Detailed plans have been developed to keep things flowing (and walking is undoubtedly the best option). Londoners have been urged to work from home or take holidays, and the Brits are known for efficient public transport. But like Auckland during the World Cup, though on a far grander scale, until the crowds descend no one can be sure whether the trains, underground and buses will cope. Getaheadofthegames.com promises up-to-the-minute travel information.
Travel to London
Oh, those dreaded queues at Heathrow. Last month, I waited an hour and 15 minutes in a slow-moving line before coming face to face with a grumpy immigration officer. Two-hour waits are not uncommon. Everyone from the Prime Minister down is promising improvement come the Olympics.
Out of London
The yachting is in Weymouth, the white water events are in Lee Valley in Hertfordshire, the rowing near Windsor, and mountain biking is in Essex. The Cultural Olympiad is on from now until September 9. The Museum of London has an exhibition celebrating the 200th birthday of Charles Dickens. Hadrian's Wall will be covered in balloons and Stonehenge lit by fire. The Harry Potter studio tour at Watford is a popular new attraction. Tickets are about $40 for children, $50 for adults.
For information on everything, see visitbritain.co.uk.
Pam Neville paid her own way to London.
London's Top 5
Flight Centre's Gordon Collins shares his ideas for things to do in London between events:
1. See the Ceremony of the Keys at the Tower of London. This is when the tower guards secure the tower for the evening in a ceremony that has taken place every night since the 14th century. They've only been late once and it was during World War II.
2. See a West End show. If you stand in line at one of the ticket booths in Leicester Square you can get good last-minute deals.
3. Get your hit of royal tradition with a visit to Windsor, or see the changing of the guard at Buckingham Palace.
4. Go and see a football match. It's hard to get tickets for Arsenal and Chelsea, but try to see teams like Fulham, Tottenham or Queens Park Rangers - the atmosphere is unbelievable.
5. Go on a Jack the Ripper ghost tour. You'll explore the small lanes and back alleys of London. The tours are cheap and the gents that run them are great.
For more information on travelling to London and the United Kingdom, contact Gordon and the team at Newmarket Flight Centre on 0800 427 555.