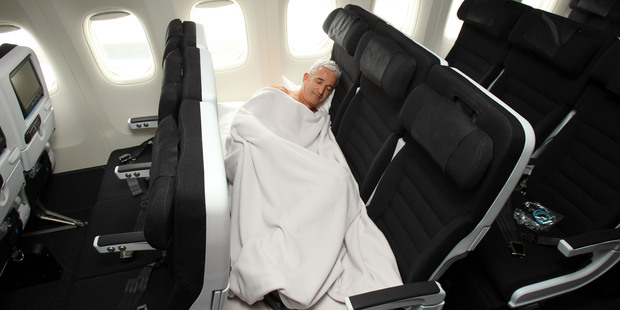 Air New Zealand is struggling to get maximum value from its "cuddle class" Skycouch because wholesale agents overseas are not selling it.
Chief executive Rob Fyfe said the airline could be making up to 6 per cent more revenue from the seats on its Boeing 777-300s if they were promoted properly by distribution operators in the United States in particular.
He was speaking after a panel discussion on wholesale ticketing at the International Air Transport Association annual general meeting in Beijing.
The three-seat set-up allows a couple to lie across them in economy class. They have been in the planes since last April. Passengers pay for two seats and get the third half price.
Fyfe said that in New Zealand the airline was a big player, agents understood the Skycouch and customers booked with the airline directly.
However, in big markets such as the US - where the airline is less than 1 per cent of the market - wholesalers were not selling them to travel agents.
"For an airline like Air New Zealand that has invested so much in all our cabins we struggle to get the premium that we could potentially get for those products."
Air New Zealand had to compensate through extra marketing.
The vast majority of Skycouches were sold out of New Zealand even though that accounted for just 30 per cent of long-haul bookings. Fyfe said the couches filled up 30 per cent faster than the rest of the economy cabin.
"My question is how much better it could be if we could be distributing evenly in all our markets."
Air New Zealand was about to start selling the seat to other airlines. Up to 12 were interested.
"We didn't just want to sell the seat, we wanted to sell the pricing model and be able to demonstrate through our own experience the economic benefit."
Grant Bradley travelled to Beijing courtesy of Iata and China Southern Airlines.