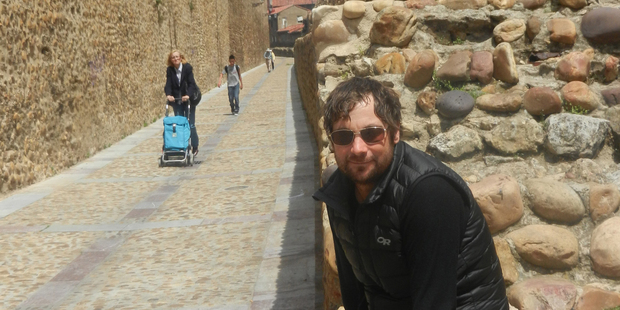 It's not on the list below, but the first thing to do on this walk is keep your eyes on the yellow arrows. That's the path, a thing we deviated from substantially yesterday.
After turning left (instead of right) out of the village of Bercianos, we ended up having to cut through a farmer's field and walk 38 kilometres in brutal mid-afternoon heat to reach El Burgo Ranero, our day's target.
Later, a fellow pilgrim suggested the trail record was 15 days. Fifteen days! That's over 54km a day. It's probably not far off, we've met others doing 40-45 clicks per day.
The first 470km have been full of highlights but certainly not easy.
Here's a quick list of a few things we've learnt in the first 20 days:
15. Albergues are a great way to meet people, lots of fun and and super cheap. But if you want to keep your sanity, then treat yourself. Private rooms once or twice a week give you your own space and a breather. If you're staying in albergues or hostel dorms, look for rooms with four to six bunks.
A big difference? Huge.
14. It turns out the Brierley book on the Camino de Santiago is the 'Bible' for day-to-day walking. Almost everyone seems to have it - except us!
13. Spanish people are lovely. They'll do almost anything to help. When we left the Camino route to go camping near Leon, people stopped in cars, ran from their homes, ran from businesses and shops all just to say - 'You're going the wrong way'! They'll fill your water bottle from their kitchen sink and happily give you city directions when you're lost - can't help enough.
12. The bars and cafes make your day. Rest, drink and chat. During the day and after hours, they're the heartbeat of the trail.
11. Walking big kilometres gets you fit! If you're a fat, lazy overweight couch potato - or if you just want to get really fit and the traditional ways aren't working, book yourself in for a 10-day walk. You'll have a wonderful experience.
10. Booking ahead to avoid the rush? Then Google translator is your, (and our) friend. Spanish hostel owners (and staff) often don't speak much English. Track the email address of where you want to stay and send them the English and Spanish versions.
9. Take ten kilos on your Camino (including your pack weight), and no more. Take two outfits, your walking outfit and one for after hours. You simply don't need a third. An extra pair of jandals (or the like) is also very handy.
9a. If you've ignored point 9 (as we did), then you'll probably need point 9a. When the time comes, the word you need is Correos. Post Office. They'll sort the rest.
8. Walking poles: We were sceptical and went without for the first 400km. But Lisa decided she still wants her knees when she's 60 and we succumbed to pressure. Again, almost all the other pilgrims have them.
7. The best place we stayed? Boadilla del Camino's 'secret garden' albergue. Great outdoor area, very social, great staff, great service. In short - great.
6. Accept the siesta ... in fact, join in! Nearly everything shuts between 2pm and 5pm. Banks, pharmacies, supermercados. The only things still open are some of the hostels - and of course the bars!
5. Tapas: Delicious bar food. Yummy small plates with local flavours, and they definitely fit the pilgrim budget. But before you leap, think about how long they've been on the counter (from someone who found out the hard way!). Vegetarians... sorry, you're largely out of luck. Spanish omelette is best. Otherwise try the Patatas Bravas (hot chips). We (and others) have been looking for albergues with 'cocinas' to cook our own.
4. The old villages are great. And they're everywhere. Definitely my favourite part of the Camino. They give you something to aim for on the walk and they're amazing to wander around. Best villages to visit? We loved Viana, Navarette, Punte La Reina and, of course, the city of Pamplona.
3. Regrettably, at least one person has died on the Camino this year. It happened atop the Pyrenees the day after we crossed. Stuck in a snowy blizzard, an Italian later suffered a heart attack. Others had to be helicoptered out. According to those who crossed two days later, the weather was beautiful. A reminder of how quickly the weather can change.
2. Good gear: If you're considering the walk, don't buy tramping shoes. Much of the trail is on roads, hard paths near roads and hard tracks. Cross-trainers or running shoes with plenty of padding are the ticket. And plenty of quick-dry clothes - most pilgrims have them drying on the back of their packs.
1. Anyone can do it. People of all ages are walking, but we've met plenty on bikes, and others on horseback ... or in a pram. The trail is never too far from a road and we've chatted to groups who happily grab a taxi at 1pm when the sun is beating down and they need to get to accommodation or they've just done their 'quota' for the day. Many groups are having their rucksacks transported for them at a cost of €8 a day - whatever works.
Route marker: 470km down, 305km to go.
* Simon Winter is a former nzherald.co.nz news editor. He and partner Lisa are following the sun through Europe.