Jason Burgess gets a taste for chilli and all things Thai in Bangkok.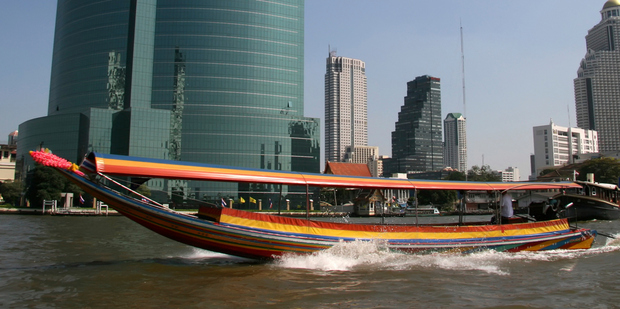 At sunset the chocolate-coloured current of the Chao Phraya River is whipped into mousse by long-tail taxi boats and crowded commuter ferries. Once a bustling superhighway on an ancient trade route to Bangkok, the 'River of Kings' is where I come for a cooler breeze and to fix my bearings against the City of Angels' exponential sprawl.
Aboard the Tahsaneeya Nava, an historic teak-hulled rice barge hosting fine dining river excursions, a rambunctious soundtrack ignites two performers. Dolled up in traditional north-eastern Issan garb, they jig through something my guide Char refers to as a "Very happy, enjoy yourself, rice dance." It's a fitting introduction to a country whose word for "hello", sawatdee khrab, rounds out as "Have you eaten rice yet?"
Dinner follows, plate after sizzling plate. Deep fried tofu with fresh chilli and fish sauce, a zesty lemongrass ground-fish larb, khao neow sticky rice, spicy pad Thai noodles and an Issan-style som tam salad of shredded green papaya, chillies, ground peanuts and shrimp. Spicier than a steamy night on Patpong Road, the fresh herbaceous flavours resonate through a chilli aftershock.
On the riverbank between grimy docklands and glamorous hotels, zumba disciples dance to their own beat, workers take smoko and starry-eyed lovers gaze out at a grainy orange orb settling behind the stupa of Wat Arun, the Temple of Dawn.
A plate of rose apple, guava and papaya is followed by a garish array of sculpted desserts. My sweet tooth favours wun, a coconut jelly, and tong yod, an egg yolk and palm sugar concoction, which according to Char "Is famous at marital feasts, a lucky dessert for fertility."
Come morning, the irrepressible Char whisks me down the aisles of Pak Khlong Market en route to the Grand Palace. Guidebooks tell me the founding father of modern Bangkok, Rama I, renamed his kingdom Krung Thep, a shorthand appellation of a tongue twisting 21-word ceremonial handle that, when translated, reads like my itinerary for today: "The city of angels, the great city, the residence of the Emerald Buddha, the impregnable city (of Ayutthaya) of God Indra, the grand capital of the world endowed with nine precious gems, the happy city, abounding in an enormous Royal Palace that resembles the heavenly abode where reigns the reincarnated god, a city given by Indra and built by Vishnukarn."
To untrained senses the market is as confounding as the wider city that more or less grew from this spot. Scents and colour collide. The nose goes one way the eyes another. A potpourri of lime leaves, lemon-basil, tamarind, coriander and the pervasive bouquet of lemongrass permeates the air.
The shrill whistles of barrow boys pushing overloaded baskets of fruit, vegetables, fish and flowers clear a temporary passage through aisles cramped with buyers, boxes, noodle stalls and overflowing sacks of produce.
One tiny stall exclusively sells pea-size eggplant for green curries. Another, salad ingredients; dry fish, green papaya and chilli. A chilli trader's giant baskets brim with tiny green, red and vivid orange chillies. "Birds eye," "mouse droppings" or "sky pointing," each picked for its specific heat, sourness or hue.
Thai food sans chilli seems unimaginable today, yet prior to the early 16th century and the arrival of Portuguese caravels on the Chao Phraya, peppercorns were as hot as it got. However, the sophisticated palates of the Siamese royal courts were assimilating influences from across Asia. Hints of India, Malaysia, China, Laos, Burma and Cambodia seeped through Thailand's porous borders. The adoption of chilli marked the dawn of a fusion now known as classic Thai.
Before me three women cut, fold and wrap palm sugar sweets, some spiced with white pepper, into banana leaf parcels while deft hands craft intricate marigold garlands for "spirit house" offerings.
Carved adornments feature with almost every dish served in the kingdom. In a custom passed on from the once secret Royal kitchens, elaborate ice and butter animals oversee hotel lobbies and banquets. On the beaches, vendors sell sculpted pineapple. Even crab snacks are served in an origami-like paper cone.
A dried salt smell surrounds stallholders mixing flaked fish into fresh paste. Char laughs, "Western people don't like. Thais, we love." She draws my attention to a cluster of merchants all proffering bundles of the "three essential Thai herbs;" the ginger-like galangal, kaffir lime, and lemongrass.
Twenty years ago these three seductive ingredients lured Italian chef, Maurizio Menconi into a love affair with Thailand. In the kitchen of Sukhothai Hotel's La Scala restaurant, he tells me "In the early nineties, Thai herbs were flooding the Italian market. I always had an attraction to Thailand, the people, the flavours. I had to come, see and learn."
He enrolled in a cooking course at the landmark Oriental Hotel. "The Thai chef there is Charlie, one of the best. There are no real Thai cooking schools, only tourist schools. Most people learn through their mothers and grandmothers, that's why there are still so many secrets."
Maurizio's Thai skills were soon put to the test on stints in Australia and Dubai before he returned to his adopted Bangkok and reverted back to his native cuisine, which today is sweeping the country as the cuisine du jour. There are upwards of 450 Italian style restaurants in Bangkok alone and the Thais I meet are more interested in pushing Latin fare than their own.
Maurizio believes there are many similarities between Thai and Italian cooking, "not in taste or flavours but in philosophy and the concept of cookery. The way Thais go to the market to pick fresh seasonal ingredients every day; it's the same for Italians. We treat ingredients similarly, like seasoning dishes with anchovy-based fish sauces. We preserve with salt and share traditions that stem from the days before refrigerators".
"I love Thai cuisine," says Maurizio. "It's unique in that it's intrinsically linked to Thai custom, especially the dancing. But to really enjoy the cooking you must go to the street where the chef comes to his "rot khen" (vendor cart) every morning at 5am. At seven he starts to sell and after he's sold everything he goes home. He only cooks certain dishes so he masters them."
Hitting the carts for breakfast is not for the faint hearted. I discover satay grills, "kaeng" curry and beef noodle stands outnumbering omelette and juice carts. The most popular of all, with its long queue of young secretaries, is a woman selling deep fried bacon bits.
Later I join a "Colours of Bangkok" cycling tour through roads less travelled on either side of the Chao Phraya. Biking in Bangkok may sound like an oxymoron but riding through little known Wat Bang Ka Chao, a kidney-shaped forested peninsular known to locals as the "lung of Bangkok", is like pedalling in a remote jungle rather than an urban one. Raised paths connect marshlands with stilt villages. Overhead flutter thumb-sized "flower pickers" and sunbirds.
The canopy of trees offers little respite from the heat. Despite this, a chilli-laden lunch of pad Thai with shrimp at a roadside cafe proves as welcome as the Chang beer that washes it down.
FURTHER INFORMATION
Loy Nava Dinner Cruises: Two daily dinner cruises. The Sunset Cruise at 6pm and The Bangkok At Night Cruise at 8.10pm. Both sailings depart from Si Phraya Express Boat Landing between the Sheraton and the Portuguese Embassy.
Colours of Bangkok biking: Baan Sri Kung 350/127, Soi 71, Rama 3 Rd, Yannawa, Bangkok.
La Scala Restaurant at The Sukhothai Hotel: Open 7 days for lunch, noon-2.30pm, dinner 6.30pm-11pm.
Mandarin Oriental Cooking School: The Oriental offers cooking classes by the day or stay for a few days with a Thai Cooking School guest programme. Email: mobkk-thaicooking@mohg.com or tanikap@mohg.com
Jason Burgess travelled with the assistance of Thai Airways and the Tourism Authority of Thailand.
Bangkok's Top 5
Flight Centre's Craig Martin shares his top tips of things to do between meals in Bangkok
1. Take a tour of the Grand Palace. Make sure you get a guide or one of the convenient audio guides when you enter so you can take in the history while you're exploring.
2. Khao San Road is the perfect place to experience the night life with great markets and amazing bars that sell cocktails by the bucket. It's a place for backpackers, party lovers and the young at heart.
3. Have dinner on a cruise along the river. It's a great way to experience traditional Thai cuisine and admire the temples lit up at night along the banks.
4. Wat Pho is a must see. It's the largest temple in Bangkok and is simply amazing. You can drop a coin into the bowl to bring you good fortune, and don't forget to get blessed by a monk on the way out.
5. Take a trip to Chinatown and the flower market. It's a great place to pick up souvenirs for friends and family.
For more information on travelling to Thailand, contact Craig and the team at Parnell Flight Centre on 0800 427 555.