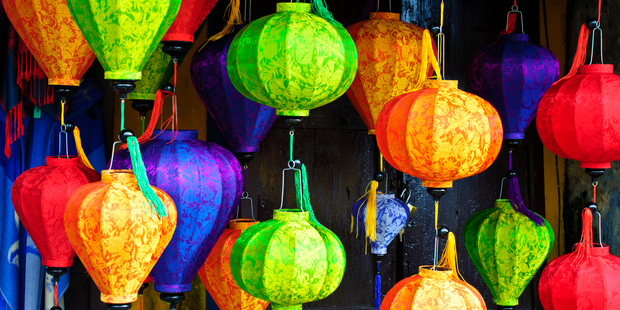 World heritage-listed Hoi An is famous as Vietnam's number-one tailoring town. While tailors, dressmakers and cobblers thrive elsewhere in this south-east Asian nation, Hoi An retains its top spot - renowned for more choice, better workmanship and lower prices.
Wandering through this pretty town - a half-hour's drive south of Da Nang, with many of its buildings the colour of egg yolks - I can't help thinking it's a pity Hoi An is a two-pronged attraction.
As well as being a prime tailoring destination, it also oozes history and is reputedly Vietnam's best-preserved historic town, escaping significant war damage.
The two identities are intertwined. Indeed, several grand old French-colonial buildings now house tailoring businesses. (Yaly Couture, in a delightfully decrepit villa, is among the best.)
But, in quests for clothes, visitors often overlook Hoi An's charm.
I watch foreigners, harried and perspiring, hobbling in just-bought hand-made shoes between quick fittings at tailors and dressmakers. Frenetically attempting to cram as much shopping as possible into sorely limited time, they ignore the laid-back allure.
Hoi An is quintessential chill-out territory. It's a taste of old Vietnam with people walking down the middle of streets as motor cycles weave slowly between them. Don't try this amid the frenzied bustle of Ho Chi Minh City and Hanoi (or even in nearby Da Nang).
A word about tailoring (for both sexes) and bespoke shoemaking, since it's undeniably the main reason for many visits: while some tourists bring much-loved garments or footwear to be copied, most don't - choosing instead from pictures in proffered catalogues or magazines.
Same-day services are offered (with one middle-of-the-day fitting) at cheaper-than-Thailand prices - often including early-evening hotel deliveries. However, frequent visitors say a couple of days' turnaround with at least two fittings results in better-quality workmanship.
Tailors sometimes suggest customers visit, place orders and have one fitting before departing on side-trips - then have final fittings when they return to Hoi An. But itineraries often don't allow this and tailors have adapted.
Hoi An begs on-foot exploration. Its number-one attraction is the mid-town tile-covered Japanese Bridge. A 400-year-old landmark with a past partly shrouded in mystery, it was built by Japanese buyers of silks and spices who were influential at the time. Their plan: transform Hoi An into a regional trading hub.
The bridge - still used by pedestrians between two parts of town - incorporates several sacred Buddhist shrines. Elsewhere in Hoi An, pagodas and other historic buildings survive from early Japanese trading days.
Streets near the Japanese Bridge are lined by low-slung French-colonial buildings - yellowish and streaked with mossy reminders of the heavy tropical rains routinely lashing these parts.
Some have become offices. Others are now restaurants, museums, art galleries and shops. From a few souvenir outlets, staff shout sales pitches - reinforcing the truism that Vietnam remains one of Asia's most inexpensive destinations.
Incense wafts from ornate temples, inviting entry. Locals spill from the Central Market with armfuls of meat, fruit, vegetables and other consumer goods. I decide to investigate, becoming part of a slow flow down long, narrow, crowded aisles before being disgorged at the other end.
The broad and usually placid Thu Bon River runs through Hoi An. Tour boats wait for customers along its banks, offering cruises to pottery communities and other villages.
Hoi An's streets teem with eateries showcasing Vietnamese and western fare. Come midday, tourists hunch over fruit smoothies or local beer at the town's many alfresco restaurants.
Others sip a type of coffee that has lately developed a cult following among connoisseurs who rave about "weasel coffee". Coffee beans, before being ground, pass through weasels' digestive systems.
Weasels are these days farmed to feast on coffee beans but previously farmers gathered wild weasels' droppings to retrieve the beans which are unaffected by the digestive process - except that the coffee's taste is reputedly enhanced.
Weasel coffee sells for about three times the price of regular brews. (It's also available in a few other Southeast Asian countries.) All traditional Vietnamese coffees - including weasel coffee - drip slowly from metal filters which, local custom dictates, remain perched on cup tops until all the liquid has dripped through.
Hoi An visitors often also take in Da Nang's diversions. Each often claims the other's attractions as its own.
The most visited is Marble Mountains, between the two but closer to Da Nang. Five hills rise from flat terrain. Their names translate as water, earth, metal, wood and fire. The one dedicated to water is most commonly visited, a warren of tunnels and caves.
A Viet Cong base during the Vietnam War, it was bombed by American aircraft with the unintended consequence of blasting larger entrances, easing access for present-day tourists. The biggest cave, a Buddhist temple, served as a Viet Cong hospital.
Most visitors take a lift to the summit, from where views are superb, and miss pagodas and small Buddhist temples along the pathway to the top.
Back at street level, I watch chain-smoking craftsmen working on giant marble sculptures as well as tiny souvenirs. The marble now used is shipped from elsewhere because quarrying has been banned at this major tourist attraction.
Da Nang's other gem is its Museum of Cham Sculpture. In a colonial-era villa at downtown's edge, it was started by French archaeologists who rescued significant pieces from remote jungle areas, fearing these relics - sculpted when Cham society was dominant - would otherwise be lost. A large collection now fills the museum, mostly from the 12th to 15th centuries.
Da Nang's rapid development ends at China Beach, justly termed one of Asia's best. China Beach is a nickname given by Americans during the Vietnam War. Only a section of this 30km sandy strip, now dotted with resorts, was termed China Beach and debate rages over whether it's My Khe (more likely) or Non Nuoc further south.
Many cranes hang above Da Nang's landscape, pinpointing places of fast-and-furious development. While Hoi An isn't poised for change, Da Nang certainly is. It's destined to become busier and more expensive.
For would-be visitors, there's no time like the present.
IF YOU GO
Getting there: Air New Zealand has connections to Da Nang via other cities in Asia. Da Nang is the closest airport to Hoi An.
Staying there: Both Hoi An and Da Nang have numerous hotels in all price categories. Budget travellers should aim for Vietnam's "mini-hotels" - small, often well-appointed and usually inexpensive. Try the newish and good-value Mercure Danang or the beachfront Fusion Maia, where two spa treatments per day are included in room rates.
Further information: See vietnamtourism.com.
The writer was a guest of Vietnam Airlines.