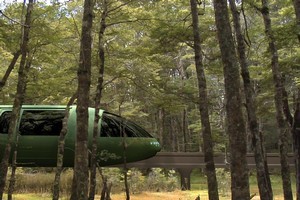 Riverstone Holdings is confident the proposed Fiordland monorail should be granted a concession from the Department of Conservation, it was heard at the final hearing in Invercargill yesterday.
Riverstone Holdings has applied for a concession to build a 43km monorail from Kiwi Burn, near the Mavora Lakes, through the Snowdon Forest to Te Anau Downs, 29kms of which would be through conservation land. It would be the final journey in the proposed Fiordland Link experience, which would include a catamaran over Lake Wakatipu from Queenstown, and a four-wheel-drive journey to Mavora Lakes.
The proposal also includes a mountain bike track linking Lake Wakatipu and Lake Te Anau which would double as a maintenance road.
DoC has indicated it will approve the concessions, subject to public submissions.
Of the 318 submissions, 288 opposed it. Some reasons for the opposition were adverse effects on the ecology of the region, intrusion on the remoteness of the area, and significant effects on recreational activities.
Riverstone was given right of reply at the final hearing, and legal counsel Paul Beverley said the opposing submissions did not provide enough evidence to challenge the application.
"The decision maker has to decide whether there are any matters in the submissions that have not been adequately addressed by Riverstone.
"There has been no expert evidence that's of a nature and scope that it could challenge the expert evidence provided by Riverstone, therefore there's nothing in the submissions that should change the indication of the Minister to grant the concession."
Terrestrial ecologist Dr Gary Bramley said a number of ecological values within the Snowdon forest were already adversely effected by introduced mammals, so effects of the clearance of forest would be relatively minor.
"Provided that bats and other ecological values are protected adequately, the forest removal proposed is minor in the context of the wider forest area."
Riverstone also gave evidence from a principal engineer and an environmental master planner to address some of the concerns noted by submitters.
Riverstone chairman Bob Robertson said the Fiordland Link Experience was not about getting to Milford Sound faster, but creating a internationally renowned tourism experience.
"We are simply about creating an experience through New Zealand's back country in a sustainable way. We are certainly not wanting to be some sort of a developer who's going to ruin things in a major way."
Riverstone would also give a written reply, which would address submitters' issues in depth.
All the submissions will now be summarised and a recommendation issued to the Minister of Conservation's representative, who will be making the decision.
A final report will then be compiled, after which a final decision will be made.