Versailles may be excessive but it's also wonderfully spectacular, writes Jim Eagles.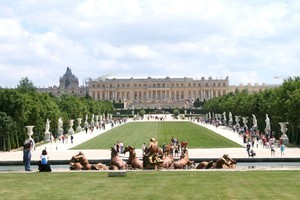 If it had happened in Louis XIV's time, courtiers would have panicked for fear of losing their heads. But these days, when the fountains at his magnificent Palace of Versailles fail to start at the appointed hour of 3pm, it merely produces a shrug of the shoulders.
"It will be soon," said a uniformed attendant, when after half an hour I inquired what time the spectacle might begin. "You will see it."
Ordinarily I wouldn't have minded, because the gardens, on which the self-styled Sun King lavished even more attention than his gilded palace, are a delightful place to wait, and the ornate design of the fountains suggested they would be well worth waiting for.
But unfortunately we had to leave at 4.15pm to return to Paris, our tour to Versailles having been cut short due to a wildcat rail strike.
Such an occurrence would doubtless have had King Louis ordering more executions, but the folks at Fat Bike Tours treated it with the same sang froid as the Versailles attendant.
"Hey guys," our leader said laconically, "we've just had word that we can't go to Versailles on our usual train because the railway union is on strike again. That means we've got to use other stations and go on a different line."
As a result, instead of a short, straightforward ride to Javel Station, our group of cyclists - some of whom looked as though they had never ridden before - had an exciting expedition through the centre of Paris to Montparnasse Station. And, similarly, at the other end, instead of getting off at Versailles Station just below the palace, we had to use Chantiers Station, a few kilometres away.
Still, it was well worth the effort, because cycling is by far the best way to see all that Versailles has to offer.
In its heyday, some 340 years ago, the royal park occupied 8000ha and was maintained by a staff of 30,000, and even today it covers 800ha, all of it worth seeing.
As well as the palace itself, the buildings to be explored include the Trianon, a magnificent marble chateau surrounded by superb flower gardens, built for the King as a private retreat and rather arrogantly named after the village demolished to make way for it; the Petit Trianon, a grand country house inspired by Louis XV's mistress Madam Pompadour, but later the Queen's official residence; and the Queen's village, a cluster of quaint houses with thatched roofs where Marie Antoinette and her ladies played at being milkmaids.
We spent a delightful few hours cycling the grounds along the network of smooth gravel paths, around the lake and through the carefully planted woodlands, pausing from time to time to enjoy the carefully created vistas, wander through the areas of formal garden and visit the various buildings.
We even had a picnic - with food and a bottle of wine bought at the busy market in Versailles town - at the head of the lake which gets few visitors but has glorious views across water, busy with elegant swans and holidaymakers in hired boats, to the magnificent facade of the palace.
After all that, I have to admit I found the actual palace a bit of an anticlimax, though it is certainly an extraordinary statement of wealth and power, arrogance and history.
The vast Hall of Mirrors, where Louis met people he wanted to impress with his majesty, is, well, as impressive as any king could wish. The royal bedchambers, where the monarchs held more intimate audiences, are suitably opulent. But perhaps I was a bit museum-and-art-galleryed-out, because, for me, it was all a bit over the top.
The place has, I discovered from the audio guide, 700 rooms, 67 staircases, 1250 chimneys, more than 2000 windows and provided accommodation for 3000 members of the royal family, courtiers, ministers and servants.
There are 6000 paintings, 1500 drawings, 15,000 engravings, 2100 sculptures and 5100 pieces of furniture and objets d'art, all displayed in rooms that are glittering with gilt and decorated with the finest frescoes and the most opulent wall coverings. Goodness.
Historians are still debating what it all cost, but by some estimates as much as $500 billion (in modern New Zealand dollars) may have gone into the building, and it soaked up a quarter of the annual income of the French state to run.
The resultant financial burden was a primary cause of the French Revolution which, a century later, saw the Sun King's great-great-grandson Louis XVI go to the guillotine and the Versailles palace sacked by rampaging revolutionaries.
My wife found it all fascinating and wandered about for hours listening to the excellent commentary.
But before long I strolled outside and enjoyed the tranquillity of the gardens while waiting for the fountains to start. And at 3.45pm, not long before we had to leave, they did. It was, indeed, worth the wait.
The construction of the 50 fountains was of special interest to the Sun King, who took a close interest in the 200km of channels, pipes and aqueducts which brought the water to power them, and made the final decisions on which figures from Greek mythology should feature in the centrepieces.
The most spectacular of all, at the foot of the avenue, features the sun god Apollo - with whom Louis XIV felt a special affinity - driving his horse-drawn chariot out of the sea to make its daily circuit of the heavens, bringing light to the world.
Adding further to the spectacle, as part of recent renovations the fountains now play music - mainly dances and operas from 300 years ago - with a different tune emerging from each of the fountains.
Because time was short, I had to sprint round the gardens to see as many as possible of these magnificent works of art, each in its own carefully designed garden setting, spraying water in elegant arabesques and playing beautiful music.
It was a truly regal experience, and one which I think even the Sun King would have applauded, despite the irritation of tardy fountains and strike-ridden railways.
CHECK LIST
Getting there: Air New Zealand flies daily to London, via both Hong Kong and Los Angeles, with connections to the rest of Europe through its Star Alliance partners.
Where to stay: For somewhere special in the heart of Paris, try the Hotel Pont Royal.
Cycling Versailles: Fat Bike Tours runs several English-speaking cycling trips around Paris, including one to Versailles.
Further information: House of Travel offers a range of options for visits to Paris. Call 0800 838 747.
Jim Eagles got to Paris with help from Air New Zealand but pedalled round Versailles under his own steam.