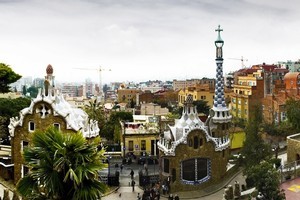 EL PALACE HOTEL
The Barcelones still call it "The Ritz". Well, it's hard to break a habit of more than 90 years - after all, this recently revamped and renamed hotel has been a luxury landmark in the Catalan capital ever since Cesar Ritz opened it in 1919.
But the grande dame of Gran Via needed a little TLC and succumbed to a £27m (NZ$54m) facelift - and a two-year closure. A phased reopening began in 2009 and in January this year, the final stage of the extensive refurbishment was unveiled, leaving only the finishing touch - the Mayan Luxury Spa - which was completed and launched in June.
The grand public spaces - once graced by notable figures such as the Duke and Duchess of Windsor, Sophia Loren, Pierre Cardin and Woody Allen - have been restored to their former glory. The superior guest lounge - the Hall - with its double-height ceilings and squishy velvet sofas, is an exercise in tasteful yet opulent style and features a combination of specially sourced antiques and bespoke furniture. And the fabric library of the renowned Florentine Rubelli manufacturing family was consulted to renew the luxurious silky drapes and upholstery throughout.
In the queen of the five ballrooms - the Gran Via Salon - the original crystal chandelier was taken down and cleaned by hand, piece by piece, while decorative wall-light sconces have been retained and the gold-leaf revitalised to highlight the heavenly trompe l'oeil clouded ceiling.
It might have necessitated a two-year loss of business, and a lot of effort to woo back the elite clientele, but it's easy to see where the £27m was spent.
The result? The restoration of the hotel to its Belle Epoque splendour.
Now that would have brought a smile to the face of the "king of hoteliers, and hotelier to kings".
The rooms: El Palace now offers 125 exquisitely redesigned bedrooms and 48 suites - including the Salvador Dali, where the surrealist often stayed with his wife and muse. Some of the rooms have restored mosaic-tiled, sunken baths. Styling is classic, featuring antique and reproduction furniture, but with contemporary twists, and each floor adheres loosely to a red, beige or green colour scheme.
If you can't stretch to a suite, the standard rooms - most with their original fireplaces - are a good size, with spacious bathrooms. The Spanish don't take rules lying down, so, typically, there's even a bedroom where guests can smoke.
Food and drink: Caelis, which celebrates French nouvelle and Catalan cuisine, is the star eating experience here. The menu features egg carpaccio (fried egg, grated potato, fried prawns and dried fruit) alongside local "peasant" soup with homebaked rosemary bread. Head chef Romain Fornell helped the nine-table restaurant to regain its Michelin star within weeks of reopening. An extensive Spanish and international wine list and unintrusive, attentive service sealed the award. Expect to pay around €80 per person excluding drinks.
Romain also oversees the more casual AE brasserie, while buffet breakfasts and Sunday brunch are served in the canopied courtyard, El Jardin. (Strangely, the service - and the coffee - here weren't so well executed.) Post-dinner, head down to the sultry Bar Rien de Rien, in the basement, which has become the evening haunt of live jazz and cocktail-lovers.
Extras: The Mayan Luxury Spa offers a choice of treatments inspired by ancient Mexican culture. In its traditional pre-Hispanic Temazcal Sweat Lodge - unique in Europe to this hotel - hot volcanic stones and medicinal herbs are combined to purify the body and ease the mind. Ask for the Mayan rebirth ritual and you can even include a ceremony led by a shaman.
Guests can, however, ditch the spiritualism and choose from a selection of more day-to-day pampering sessions, as well as make use of the fitness room.
Access: There are two rooms suitable for guests with disabilities and a number of interconnecting ones for families. Dogs are treated well, too; there might be a 5kg weight limit, but they get their own bed and snacks.
The bill: Deluxe doubles start at €220 (NZ$378).
Address: El Palace Hotel Barcelona, Gran Via de les Corts Catalanes, 668, 08010 Barcelona, Spain (00 34 93 510 11 30).
- INDEPENDENT