March 2012, Liverpool, England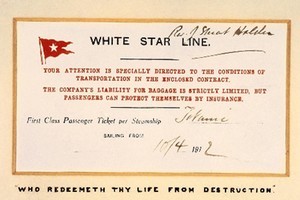 Titanic and Liverpool: The Untold Story opens at Merseyside Maritime Museum in time for the 100th anniversary of the sinking, which occurred on April 15, 1912 and claimed more than 1500 lives.
This year-long exhibition explores Liverpool's central role in the Titanic story through the eyes of key personalities, giving a new insight into the launch, the voyage, the sinking and its aftermath.
It includes rare items from the museum's archives such as a magnificent parcel-gilt dinner service presented to White Star line founder Thomas Ismay, and the only known surviving Titanic First Class ticket, which belonged to Reverend Stuart Holden, who cancelled his voyage when his wife became ill the day before departure.
* For more information see liverpoolmuseums.org.uk