Fine wine, great food, pretty cycle trails ... Mangere has it all, finds Catherine Smith.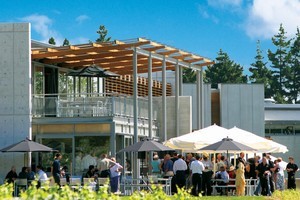 "Let's cycle through the vineyards, shop at the local markets for fresh produce, check out a few ancient monuments and some pretty countryside. Stop for great coffee and finish with an award-winning dinner. Then a leisurely lunch at a pretty vineyard on Sunday."
I pitched a great escape weekend to my husband. So far I had his attention. "Oh, and it's in Mangere, not the south of France."
Surprisingly, it didn't take too much more to convince the chief foodie in the household that this was going to be a good weekend: we'd been meaning to get to Mangere and Otara markets all winter and, in his cycle training days, the Mangere route had been a favourite with his ride buddies. The clincher was to be dinner at Te Maroro Restaurant, the Jet Park Hotel's in-house eatery, which won the Restaurant Association's Restaurant of the Year award in July.
The hotel, a business and conference spot during the week, was testing their weekend offering, noticing that there were plenty of city-based people heading to the region's quiet country roads for their Saturday and Sunday rides.
Manager Bambi Wichman had sorted us with rental bikes and helmets, some great maps of the area (and the promise that the spa baths in the suites would undo any aches and pains afterwards).
It took us longer than we'd expected to comb through the Otara markets and we had to check out recommended pork buns and donuts. This meant that we had some serious miles to cover on the bike to make up for the morning. Within a couple of blocks of the busy airport roads we were in empty countryside and arrived quickly at the slightly tricky-to-find entrance to the Watercare Coastal Walkway. The 7km of unsealed roads are mostly flat, passing the restored tidal inlet which was transformed from the old sludge pond, now planted with natives. There were plenty of places for birdwatchers to stop, and the regeneration of coastal forest and salt marshes is exciting to see. At its northern end, the path joined Ambury Regional Park. On a sunny Saturday, the place was buzzing with families feeding the animals and exploring the paddocks.
From Ambury the riding connects to Kiwi Esplanade, Mangere Bridge, one of the prettiest secrets in Auckland. By the time we reached the village we could fully justify a coffee and a piece of home baking from Ruby Red. Co-owner Amanda Laird is the food writer for our sister publication, Viva, and her husband, coffee aficionado Felix Krause, is a very persuasive man.
An easy cycle home included a stop at the strawberry fields for their frozen berry icecream (research) before testing out the restorative powers of that spa bath.
Chef Nancye Pirini most recently worked with our own Peter Gordon at SkyCity's dine (we were rather keeping things in the family). She lives in Otara with her husband and five kids, and her food is a balance of good clean fresh and earthy flavours, with great texture and colour. Despite a very busy night, the service was calm, warm and knowledgeable, a rare beast these days. I had the prizewinning menu: seared tuna to start, prawn-crusted hapuka for mains and the husband was swayed by the sticky date pudding, since the chocolate was not on the menu that night. Fresh, clean, lovely. I'll be back.
Sunday we managed to fit in a brisk hike around the Otuataua Stonefields before heading to more food at Villa Maria Winery. The sculpture park was worth a walk, and the winery tour impressive: starting in the trophy room, you are walked through all stages of the wine making, with insight into the forward-thinking sustainable design for energy, water and recycling that Sir George Fistonich brought to the new site in 2005. The tasting was pretty good too, those awards people knew what they were doing.
So now I get it: instead of a killer two days' flying to France, next time I need a wine and food escape, I'll head to the airport, pick up a bike and explore a little closer to home for two days. Easy.
Travellers' tips
Jet Park Airport Hotel and Te Maroro Restaurant, 63 Westney Rd, Mangere, ph (09) 275 4100 or 0800 538 466.
Villa Maria Winery, 118 Montgomerie Rd, Mangere, ph (09) 255 0660.
Ruby Red, 30B Coronation Rd, Mangere Bridge, ph (09) 634 6454.
Otuataua Stonefields Historic Reserve, 56 Ihumatao Quarry Rd, Mangere; Watercare Coastal Walkway, Oruarangi Rd.
Ambury Regional Park, Ambury Rd, Mangere (or entrance of Kiwi Esplanade, Mangere Bridge).
Otara Markets, Newberry St, Saturdays 7am to 10am; Mangere Markets, 93 Bader Dr, 6am to 12pm.
* Catherine Smith was a guest of Jet Park Hotel and Villa Maria.