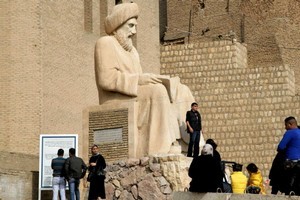 Think of ideal holiday destinations, and a country ravaged by war and plagued by terrorism in its aftermath is hardly likely to be high on the list.
But that is exactly what one travel company is offering, as it tries to get Britons going on its tours - of Iraq.
Fadhil Al-Saaegh, chief executive of tour operator Al-Rafidain, said the country was "120 per cent safe" and guaranteed to "put a smile on the face" of travellers thanks to its unrivalled archaeological attractions.
Mr Al-Saaegh, whose company's typical week-long package tour costs £1200 (NZ$2460), admitted: "Most people have a negative image of Iraq. They think of kidnappings and killings."
He insisted, though, that "this is not the case".
Scheduled passenger flights between Baghdad and London resumed in April, the first since the UN imposed sanctions on Iraq in 1990.
But the UK's Foreign Office advises against "all but essential travel" to almost all of the country.
- DAILY MAIL