Sarah Lawrence has a blast with her son on an high octane, laugh-filled ride across the harbour in a jet boat.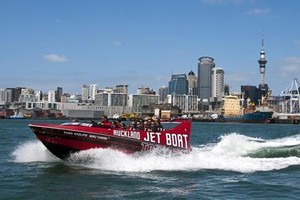 As we trudge across the Harbour Bridge on our daily commute to school, I frequently comment on the beauty of our harbour to my son Jack. We have spent many hours sailing, catching ferries and swimming in and around its waters. There is however, one mode of transport we haven't used to cross the harbour and that's jet boat.
Not just any jet boat, but a 7.8 metre, 300 horsepower twin jet engine "scream machine" as the friendly folk at Auckland Jet Boat Tours like to call it.
It's fair to say I'm not exactly a speed demon, but being the mum of an 11-year-old boy, I'm keen to step outside my comfort zone now and then. Today isgoing to be a pretty good test.
Our skipper from Auckland Jet Boat Tours resembles a distant cousin of Crocodile Dundee and sports an equally mischievous grin. He revels in playing the soundtrack to the movie Jaws as we pull away from the pier and with a knowing smile he tells us he is a seasoned yachtie who took this job to satisfy his dark side.
I have a feeling this is going to be fun, and tighten my grip.
We head off west from the Viaduct, under the Harbour Bridge and out towards Birkenhead. Within minutes we reach speeds of up to 90km per hour with spins, fish tails and power slides all thrown in for good measure. We even surf off the wake of launches as they pass by. This isn't just fun, it's seriously good fun. We take breaks along the way while our skipper shares interesting facts about the area including the iconic Chelsea Sugar Factory and Kauri Point. Auckland Jet Boat Tours will also tour to North Head and Rangitoto, but it's refreshing to explore the western side of the bridge which proves to be an equally picturesque part of our harbour. On a separate trip, they can even traverse the 3km waterways up to the Riverhead Tavern for lunch, tides allowing.
After a laughter filled sequence of many more high octane manoeuvres we head back towards home and briefly pull into Westhaven Marina where we take in the majesty of some of the superyachts that frequent our city. We also get the chance to view the Sky Tower in a way we've never seen it before ... but that's a treat you'll have to experience for yourself.
As we pull up alongside the pier and bid farewell to our skipper, Jack and I decide that jet boating is by far our most preferred option for crossing our beautiful harbour. If only we could travel that way to school every day.
Traveller's info
Where: Auckland Jet Boat Tours are located outside the Voyager New Zealand Maritime Museum, at the Viaduct Harbour Village on the corner of Quay and Hobson Streets.
Price: Adults $65, Children $45, family of four $200. Various combo deals are available including helicopter and bungy jumping, lunch combos with Degree and The Riverhead Tavern, starting from $85 per person. Group discounts and corporate packages are also available.
Phone: 0508 255 382