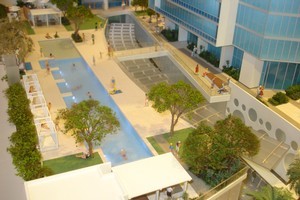 Australia's newest luxury hotel, the A$700 million (NZ$889m) Surfers Paradise Hilton, will officially throw its doors open next Wednesday.
The twin-tower complex is the first upmarket international hotel to be built on the Gold Coast in more than a decade and the first Hilton in Australia to offer a combination of guest rooms and holiday residences.
As well as 169 guest rooms the hotel will feature 250 one, two and three-bedroom residences.
General manager David Kelly says the final touches are now being applied to the hotel.
"We're pretty much ready to go, we just want to run the team through the final stages of their training with some real-life customers then we look forward to the opening," he told AAP.
Kelly said the design was specifically tailored to meet a demand for more flexible holiday options in south-east Queensland.
"Our self-contained residences include full kitchens, laundries and separate living and dining spaces, and are ideal for families, groups or anyone looking beyond a traditional hotel for superb accommodation.
"The Gold Coast is known for its residential offering and there's also a solid demand for five-star hotels and we are lucky enough to have both within the one complex."
Restaurateur Luke Mangan who will lead the signature eatery Salt Grill, is the first celebrity chef to establish a restaurant on the Gold Coast, while Sydney-based mixologist Grant Collins is leading the team at the ultra stylish Fix lounge bar.
Another concept unique to the Gold Coast will be The Food Store, a gourmet marketplace and European-style delicatessen with an exclusive range of products including cheeses, wines and handmade pastas available nowhere else on the glitter strip.
More than 300 of the hotel's new staff members recently held a rally day on Surfers Paradise beach to celebrate their new careers.
- AAP