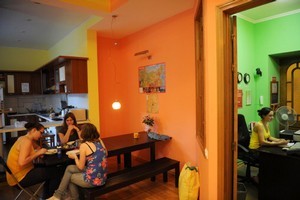 Until recently, visitors to Moscow had little choice but to pay for hugely expensive hotels. But now there is another option: growing numbers of clean modern hostels that have opened over the last five years, charging around US$20 (NZ$24) per night.
Hostels now offer more than 3000 beds in Moscow, the city's tourism committee said.
"It's very well located... and it was cheap as well," said Mexican student Carolina Felton, 22, who was visiting Moscow as a tourist and sharing a hostel dormitory room with seven others, as well as a bathroom and kitchen.
"A hotel is way beyond my price range," said British student Mike Loader, who was visiting Moscow for sightseeing and to research Soviet history, calling Moscow a "premium" and "expensive" city.
Both were staying at a hostel close to the Arbat pedestrian street, in one of the most attractive areas of the city centre. It sleeps around 30 people in dormitories with up to 12 beds, starting at just 550 roubles (NZ$22.90) per night.
The owner, Daniil Mishin, is just 18 and comes from Ukraine, where he and his parents own several more hostels. He said they got the idea when travelling in Europe and decided to recreate the hostel concept locally.
He and his family have opened a total of seven hostels in Moscow and their home town of Sevastopol, Crimea.
Business is going well, he said, with his most recent hostel in Moscow opening in early August. Occupancy rates are currently at around 80 per cent, he said, with bookings for months ahead.
And he is not the only entrepreneur to spot an opportunity in the budget travel sector.
At the moment, city has 59 modern hostels, 14 of which have opened since May, according to the city tourism committee. The first such hostel opened in 2006.
The city's largest hostel, with 153 beds, is due to open by the end of the year in one of the liveliest central streets, the pedestrianised Stoleshnikov Pereulok.
"Everything has changed: the market has gone mad," concluded Mishin.
Whereas a year ago the guests were almost all young foreigners on a shoestring budget, that has now changed, he said.
The guests are "people of different ages, different professions, completely different social circles," Mishin said. And recently the first Russians started checking in.
"It is about a year since Russians started going to hostels," he said.
"Before, no one knew what they were, but a year or so ago Russians started to find out, They realised that you could live comfortably in the centre, and pay 500 roubles per night for nice conditions."
The concept of hostels did not exist in the Soviet era, when travellers would stay at large state-owned hotels. Extremely basic communal dormitories were used not by travellers but by students or migrant workers.
Due to visa restrictions, Russia has relatively few independent travellers, and the idea of cheap, basic accommodation took some time to jump the border. There still isn't a Russian word for the concept, known as "khostel".
Yet hostels fill a vital niche in a city where hotel rooms are among the world's dearest, at around £149 (NZ$294.36) on average in 2010, according to the Hotel Price Index, a survey of rates at top destinations.
By contrast, the average hotel room in Dubai cost £120 and in London £114, while in the tourist mecca of Prague, the average room costs just £67.
Hostels will boost tourism "especially when it comes to independent travellers" and young people and students, said Gurgen Mkrtchyan of the city's tourism committee.
But hostels are still in the "early stages of their development", he stressed, since they are only able to accommodate limited numbers, with around 2600 beds.
Despite the mushrooming of hostels, there is still little choice of moderately priced hotels available in Moscow's city centre, which is dominated by four- and five-star hotels.
"There is a lack of reasonably priced hotels," said Anton Melnikov of estate agents Knight Frank, linking the problem to the high price of land.
"They will develop, but not in the centre," he added.
Large new hotels need to recoup the cost of pricey plots with high room rates, while hostels do not have such costs because they are usually housed in existing buildings, some in former apartments knocked together.
"Tourists will have to stay in the outskirts, get on the metro and ride to the centre," Melnikov predicted
"In Amsterdam, Brussels or London, you will always be able to find a cheap hotel in the centre ... but in Moscow, you are not going to find this," he said.
- AFP