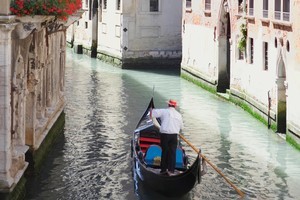 Visitors to Venice will find an unexpected charge on their hotel bills from tonight as the city becomes the latest destination to launch a tourist tax.
Anyone lodging overnight on the islands in the Venetian lagoon, or even in the dreary suburbs of Mestre on the mainland, will pay an imposta di soggiorno that adds as much as €10 (NZ$17.40) to bills for double or twin rooms.
Research by The Independent shows that authorities worldwide, from the Maldives to the Rockies, have begun to exploit what they see as a rich seam of earnings.
The Comune di Venezia has produced a lavish brochure in nine languages to announce the tourist tax, promising visitors "you will become one of the city's sponsors, contributing to safeguarding it".
The levy even has an official logo - a sticker reading "Thank you for being a sponsor of the splendor of Venice".
The authorities say the levy, of up to €5 per person, "will help the city improve the quality of the tourist services".
The tax will also be used for "salvaging the city's cultural and architectural heritage".
But under Italian government rules, local authorities can also use tourist taxes to support public services - leading to suspicions that this is a thinly veiled plan to help to stem Italy's massive public deficit.
While the tax represents less than one per cent of the €1023 room rate at the Hotel Cipriani, guests in a typical three-star hotel costing €150 will pay €6 - an increase of four per cent.
Evidence from elsewhere in the world suggests that destinations with a genuine claim to be unique can raise taxes with impunity.
At the start of 2011, the Maldives introduced a 'Tourism Goods and Services Tax' of 3.5 per cent, a levy that will soon almost double after it met little resistance among visitors to the Indian Ocean archipelago.
Tourist taxes are popular with finance ministers because the people who pay them do not, by definition, vote.
Local authorities are also latching on to the idea that some of the financial burden for public services can be shifted to non-residents.
But some in the travel industry view tourist taxes as damaging in the long term if tourists perceive they are being ripped off to pay for public-sector extravagance.
"Any tax on tourism is unwelcome," said a spokesman for Abta, the travel association.
Visitors to Britain are not immune: they pay VAT at the standard rate of 20 per cent on hotel stays and most other spending.
If they fly home from the UK, they are liable for Air Passenger Duty between £12 (NZ$23.85) and £170 (NZ$338.20), depending on destination and class of travel.
- INDEPENDENT