The changing face of Singapore continues to amaze Brett Atkinson.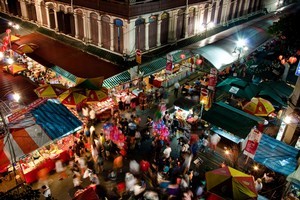 The sweeping top floor of Singapore's Marina Bay Sands hovers above the city's busy inner harbour like a giant celestial surfboard, while crane-laden building sites to the left and right of the massive resort mock the planet's supposed economic slowdown. Crisis? What crisis?
I've been coming to Singapore for a quarter of the century, and the drive into town from Changi airport continues to astonish and amaze. New real estate developments and international hotels hug the waterline, all surrounded by an improbable halo of shimmering glass-encased office towers.
Sentosa Island, the sleepy tropical getaway of 25 years ago, is now a resort-laden escape with the family-friendly attractions including Underwater World and Universal Studios.
Welcome to a Bladerunner boomtown showcasing some of the world's most audacious modern architecture.
This version of Singapore _ interspersed with some of Asia's biggest shopping malls and the hotels of Orchard Rd _ is familiar to Kiwi travellers, but it overlooks one of the city's more interesting areas.
Twenty-five years ago, Singapore's Chinatown was a raffish neighbourhood dotted with Chinese herbal medicine shops, faded pre-WWII shophouses, and the dark and smoky clubhouses of traditional Chinese clans and associations.
In a new century, the huddled rows of shophouses are now daubed in pastel tones, and the discreet entrances of clubs like the Singapore Chin Woo Athletic Association sit adjacent to chic espresso bars and internet design companies.
Significant in driving the area's renaissance are a scattering of elegant boutique hotels. The movement to re-purpose Southeast Asian heritage buildings as designer accommodation has now spread to Penang in Malaysia and Bangkok in Thailand, but the shuttered shophouses of Singapore's Chinatown were the first to kick off the trend.
For most Kiwi travellers, a Singapore hotel stopover often means a comfortable but characterless opportunity to recharge before the next long-haul flight to Europe. But staying in Chinatown changes that, with the most intense energy and colours of the city right outside your hotel.
Located close to the hip bars and restaurants of Club St, The Scarlet has 84 rooms and five uniquely-designed suites. In a town where accommodation can be a tad generic, this hotel celebrates a distinct opulence with bold colours and luxurious furnishings.
The Scarlet's Passion Suite has a private deck with views of Chinatown's heritage rooftops, and breakfast is cooked to order in the hotel's ground floor Desire restaurant. It's all a refreshing and personal contrast to other hotels' breakfast buffets.
The Scarlet's rooftop bar and restaurant is dubbed Breeze, a Mediterranean-style terrace with elegant pavilions and day beds.
Metres from The Scarlet is the perfect Singapore contrast, with the humble culinary buzz of the Maxwell Rd Hawker Centre. Curious foodie travellers should start the night at Maxwell Rd with Singapore's signature dishes of bee hoon noodles and tender satay, before cocktails beside the indoor fishpond at the Lao-inspired SaVanh Bistro & Lounge on Club St.
Other Club St options include the Screening Room, a Singapore after-dark institution combining a bar, tapas, and regular screenings of arthouse movies. During the day, the city's best coffee bubbles away at the P.S.Cafe, and nearby Ya Kun Kaya Toast in Far East Square serves up the quintessential Singapore brunch. Try the moreish butter sugar toast with Singapore-style kopi (coffee with condensed milk).
Ya Kun's been around since the early 1940s, and is now more popular than ever. While Club St's chic gentrification is almost complete, a few streets away, the area around Keong Saik Rd presents Chinatown's old and new.
Nearby Smith St has some of the city's best hawkers stalls, and traditional Chinese medicine shops now huddle beside day spas and elegant Asian homeware stores.
Tropically-flustered tourists emerge from the labyrinth of local markets to refuel with ice-cold Tiger beer in simple outdoor restaurants, and the insistent patter of Indian tailors collides with Singaporean hip-hop beats.
Even Keong Saik Rd's traditional row of backpacker-friendly accommodation is being spruced up, with The Scarlet's sister property The Saff, offering affordable accommodation with decor inspired by India and the Middle East. Choose from breakfast at the Californian-style cafe next door, or more kaya toast and kopi with the friendly taxi drivers across the road.
Keeping jetlag at bay has never been so much fun.
WORTH A VISIT
The Scarlet: 33 Erskine Rd, Singapore
The Saff: 55 Keong Saik Rd.
SaVanh Bistro & Lounge: 47 Club St.
The Screening Room: 12 Anne Siang Rd.
P.S.Cafe: 45 Anne Siang Rd.
Ya Kun Kaya Toast: Far East Square, 45 Peking St.
Further information: See chinatown.sg or yoursingapore.com.