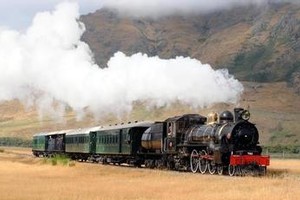 Central Otago's historic steam train the Kingston Flyer is back on track and should be carrying tourists again by October, says its new owner.
The old steam train has been laid up for two years after the company operating it went into receivership owing more than $4.6 million.
However, Marlborough businessman, David Bryce signed a deal to buy the train yesterday saying it was too sad to see it sitting in a yard and not being used.
"I want to get it back running again," he told the Otago Daily Times.
Mr Bryce also bought the Kingston Tavern which closed after the train stopped running. He hoped to reopen the tavern next week.
He would not say how much he paid for the train but said the deal included two steam locomotives, vintage carriages, the Kingston Tavern, storage sheds, a 14km section of track to Fairlight, six residential lots and about 80ha of land.
Mr Bryce said he was humbled to have the chance to be part of the train's heritage.
- NZPA