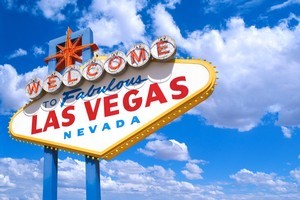 A Las Vegas casino resort took on a Kiwi flavour this week when top band Opshop played in front of about 600 New Zealanders who had flown to the gambling capital for four days of partying.
The trip culminated in a party at Nikki Beach at the Tropicana Hotel to celebrate Air New Zealand-owned Grabaseat's fifth birthday.
The day started with a pool party and carried into Tuesday evening local time, when Opshop performed.
In planning celebrations for its big day, Grabaseat invited Kiwis to choose the birthday party's location.
Las Vegas came out on top and tickets proved so popular that an entire Air New Zealand Boeing 747 sold out in two weeks.
A second jumbo was then put on to fly in convoy with the first.
Grabaseat manager Duane Perrott said the promotion had been a great success.
He said they hoped to do similar promotions in the future and had been pleased with the response.
"I am just happy that people have come over here and had a good time. It was all I could ask for," he said.
Opshop lead singer Jason Kerrison said he and the band had been thrilled when approached to perform live for New Zealanders in Las Vegas.
"It did not take much convincing," he said after his performance, which included his bands' hits, some New Zealand favourites and other well-known songs.
He said the experience had been amazing and the crowd's response to the band's performance simply "fantastic".
He said he planned to go out of Vegas a bit and see the sights, including the Hoover Dam.
The two Air New Zealand planes that brought the band and the other Kiwis here, have been sitting at Las Vegas airport since Sunday and will fly out on Thursday.
Opshop were not the only famous New Zealanders on board the flight, with celebrities like cricketer Scott Styris, league legends Steve Price and Awen Guttenbeil.
The Edge radio presenter Dom Harvey and former sevens star Karl Te Nana were also taking the trip of a lifetime. They mingled with ordinary New Zealanders going to Vegas for weddings, stag and hen's dos, reunions and anniversaries.
Two of the couples who came to Las Vegas to get married were the winners of a competition on The Edge radio station. They were both married on Monday at the Chapel of the Flowers and they then phoned their families to tell them, live on The Edge, that they had got married.
Andrew Austin flew to Las Vegas courtesy of Grabaseat and Air New Zealand.