In summer, Japan drops its reserve to party, finds Rob McFarland.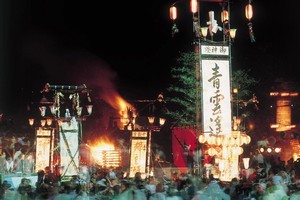 This is going to end in tears. Fifteen young men with a 5m-high lantern balanced precariously on their shoulders sprint forward, scattering the crowd in their path.
Among a crescendo of shrieking and whooping, they start spinning wildly, their bright yellow shirts a blur, feet skidding on the wet slippery road. Four men clinging to guide ropes attached to the top of the lantern are whirled around while desperately trying to stop it toppling over. Finally, exhausted, the group members lower the wooden structure back to the floor, wet hair matted to their grinning faces, and pause to gulp from large bottles of beer.
This is the Japan you rarely see. A giddy, joyous, playful Japan that is so often hidden behind centuries of ritual and reserve. The reason for this exuberance? It's the Wajima Taisai festival, one of many summer festivals held throughout the country and an opportunity to see the Japanese at their most uninhibited.
The city of Wajima is located towards the top of the Noto peninsula - a bent finger of land that juts from the middle of the western side of Japan's main island, Honshu.
It's famous for its lantern, or kiriko, festivals where dozens of ornately decorated sacred lanterns are paraded through crowded streets by enthusiastic groups from the local neighbourhoods.
The kirikos vary in height from 3-10m and are carried by groups of up to 20 people. Many incorporate a taiko drum on which people take turns to pound out a frenetic rhythm while the rest sing, whistle, cheer and drink. It's Japan's answer to Rio's Carnival.
One by one, the kirikos arrive at a large field by the sea and are lined up in rows, their lanterns burning brightly under the night sky. The festival culminates with a huge wooden pole topped with straw being set alight while competing teams of young men try to pull it over with ropes.
Immediately preceding the procession was an even more bizarre piece of traditional folk entertainment. Called the gojinjo drum performance, it's a ceremony that commemorates a last-ditch attempt by locals to scare off an invading samurai clan in 1577.
We are among a handful of Westerners sitting alongside hundreds of Japanese, all staring expectantly at an empty stage. Suddenly, a man with wild straggly hair and wearing a grotesque devil mask leaps out from behind the curtain and starts hissing and yelling at the audience. Embarrassingly, I jump two feet off the ground. He's joined by two similarly scary-looking individuals and they take turns beating like madmen on a large, ceremonial wooden drum.
It's a baffling spectacle and apparently it was effective - legend has it that when the invading samurai saw this group of seaweed-draped, mask-wearing crazy people, they turned on their heels.
Although the format and origin of Japan's many summer festivals differ, the essence is almost always to bring people together in celebration. And nowhere is this more evident than the Gujo Odori dance festival in the small riverside town of Gujo Hachiman in the country's Central Honshu region.
Held over 32 nights from mid-July, the festival attracts thousands of people and is considered one of the most important dance festivals in Japan. For many, the festival's highlight is four special nights in August where revellers dance until dawn.
We arrive mid-afternoon to find the town buzzing as people prepare for the evening's festivities. We visit the town's museum and are shown a demonstration of one of the 10 carefully choreographed dances that will be performed in the streets later that night.
Two immaculately dressed women in yukatas bound with scarlet silk waistbands guide us through the movements: look skyward, make the shape of a mountain, then a river, then clap.
After dinner we walk back into town to find the laneways have been lit with large cylindrical paper lanterns that sway gently in the evening breeze. Under their soft shimmering glow we follow a stream of locals to a bridge for the first instalment of the evening's festivities: a celebration of the Sougisui spring that flows through the town and which allegedly has the purest water in Japan.
From the bridge we can see a great cloud of smoke created by fireworks thrown into the river. As they float downstream they crackle, flare and skip across the water's surface to a chorus of oohs and ahhs from the watching crowd.
When the last firework has fizzled out, we follow the crowd back up towards the main street, drawn Pied Piper-like by the traditional music we can hear in the distance. We squeeze into the main drag to find ourselves part of a long line of people slowly snaking their way through the town.
It's an arresting spectacle - hundreds of elegantly dressed locals all dancing in unison through the streets under a moonless sky. We press against a shop window and watch as the procession moves past. Many of the women have bright flowers in their hair. The older ones have delicate fans wedged in the back of their tightly wound waistbands; the younger ones have phones.
Suddenly we recognise our song and excitedly join the procession. As expected I'm constantly one step behind - looking skyward when I should be clapping and being a river when I should be a mountain - but no one cares. We're greeted with encouraging smiles from young and old alike. It's a precious moment - a chance to learn about an ancient cultural tradition not just by watching but by taking part. The band plays on and we turn and dance into the night.
TRAVELLERS' TIPS
Further information: The Wajima Taisai festival is held annually from August 22-25. Drum performances are held in Waijima from July to October. The Gujo Odori dance festival is held over 32 nights from mid-July to early September in Gujo Hachiman. The Sougisui festival takes place on August 20.
Some of Japan's more unusual summer festivals:
Every July
* Furano Bellybutton Festival in Furano, Hokkaido: This dance festival attracts thousands of people from all over the world who paint faces on their stomachs.
* Fire Festival of Nachi in Nachisan, Wakayama: A parade of 12 6m-high shrines and huge flaming torches that ends up at the sacred 133m Nachi waterfall.
* Hakata Gion Yamakasa "Naked" festival in Fukuoka: Loin cloth-wearing men race through the streets carrying one-tonne floats. Curiously, all residents refrain from eating cucumber during the festival as it's considered bad luck.
Every August
* Daimonji Bonfire in Kyoto: Fires in the shape of Chinese characters hundreds of metres high are burned on the slopes of the mountains surrounding the Kyoto basin.
Rob McFarland was a guest of the Japan National Tourism Organisation.