Estelle Sarney visited Cape Canaveral as the Endeavour was being prepared for its last flight.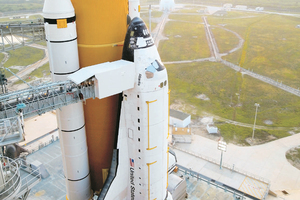 Driving into Cape Canaveral you're reminded of the perils of journeying into space. You notice roads leading to the Kennedy Space Centre are named after the astronauts of Apollo 1 who died during testing in 1967, and the two space shuttles that met a fiery end decades later.
Humans have been launched into space around 150 times from the sprawling complex but flying into space is not routine. Neither was part of the scene that greeted us in May, two days before the scheduled launch of the shuttle Endeavour in what was to be its final mission.
As technicians were poring over the hulking craft on launchpad 39A, finishing touches were being put on temporary grandstands for the VIPs, including an appearance by president Barack Obama, and America's media was moving on to its designated site as close as civilians get, about 4.5km from the launch pad.
That sense of order was disrupted by a huge scrub fire in the wilderness reserve in which the space centre is set, producing smoke so thick it practically blocked out the sun and obscured much of what we were to learn was one of the biggest single-room structures in the world, the Vehicle Assembly Building.
You're driven to the launch pad observation gantry and the Apollo/Saturn V Centre in tour buses by expert, chatty guides but, oddly, they all ignored the large cloud enveloping the centre. In the spirit of space race disinformation we were told by a worker during the day it was a "controlled burnoff".
It turned out to have been caused by a lightning strike and was put out that day without affecting the countdown, although the liftoff was later delayed due to a mechanical fault.
The Kennedy Space Centre was named after the president who set America on course to put a man on the moon before the 1960s ended, and is an easy drive of just over an hour from Orlando, best known by families for its theme parks.
For my husband Grant, a child around the time of the Apollo missions, and our 14-year-old son Jed, a flight and space fanatic, this was something of a pilgrimage. For me and our 11-year-old daughter Laura it was an interesting diversion on the road between theme parks and the Everglades.
The centre offers a variety of tours and expriences, including lunch with an astronaut, a ride simulating the 28,000kph launch speed of a shuttle, a look around a full-size shuttle, and an Imax theatre. A walk around the "rocket garden" of pre-Apollo craft gives an insight into just how hairy those early missions must have been for astronauts - their accommodation looked a lot like tin cans perched on top of what were essentially balistic missiles adapted from military use.
Our tour started at an observation gantry where you're given a rundown on the shuttle programme - we had a good view of Endeavour about 2km away.
We took binoculars, which were handy for spotting the rockets - and the wildlife. Nearly 90 per cent of the Cape - 80,000ha - is a wildlife refuge for about 5000 species. We saw a large alligator basking near the road, turtles, brown pelicans and one of the biggest bald-eagle nests in North America.
At the Apollo/Saturn V centre you're given a movie history of the space race and then experience an Apollo launch countdown in a replica launch or firing room. You then get to see what is described as the most powerful machine ever built; the Saturn V rocket. The 110m tall (35 storey) rocket lies horizontally in its three stages in a huge hangar, its size and power overwhelming as you imagine how the Apollo astronauts felt strapped into their tiny capsule at the top of it. For launch it was filled with enough kerosene and liquid oxygen to explode with the power of a small atomic bomb if the worst had happened.
There's a replica lunar module (parts of the real ones are still on the Moon or drifting in space), the heat-scarred Apollo 14 command module, space suits and a very cool Corvette Stingray, just like those the space programme astronauts were issued to maintain their supermen image. There's also a sliver of moon rock which you can touch.
You could stay there for hours but a nightime visit to Disneyworld beckoned. We did have some time for what is touted as America's biggest space gift shop.
There's a bit of Right Stuff astronaut worship at the Kennedy centre, and plenty of propaganda on the scientific, medical and environmental benefits the space programme and not much about its military applications and the US$20 billion annual bill which is exhausting the American taxpayer and politicians. But it's impossible not to admire the Nasa spirit.
Human flight from Cape Canaveral is almost finished for now and the shuttles too will become historic relics. But even if it becomes more of a museum than anything else, the Kennedy Space Centre will be worth making an effort to get to if you have half a chance, even if you're just a little interested in space.
IF YOU GO
Further information: See kennedyspacecentre.com.
Estelle Sarney paid her own way to Cape Canaveral.