A weekend in Hawkes Bay was timed well for the food and wine festival, writes Catherine Smith.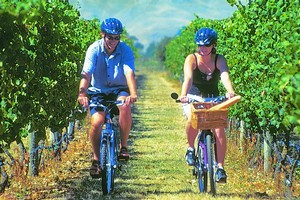 There's something about driving into Hawkes Bay from Taupo that always puts a lump in my throat. Something about those rugged hills, the dolls' house arrangement of fields and rivers with sparkling sea in the background, then the drive past picture-perfect farm buildings, a movie-set chapel and fields of grapevines and lavender seems too good to be true. Luckily it is.
On previous family trips to the Bay we'd run from vineyard to water park to concert and felt like we were skimming the surface. This long weekend we were determined to slow down, planning only to eat and cycle our way around, unhurried and unrushed. To help get our bearings, we'd timed our visit for the Hawkes Bay Wine and Food Festival, an easy way to sample most of the wineries, coffee and food in one spot.
The festival's setting on the top of Roy's Hill gave close-ups of those spectacular views. We spent an entertaining hour wine and food tasting with the most convivial host in the Bay, Tim Turvey of Clearview Estate Winery and Restaurant, and his chef Kerry MacKay.
Their 2005 reserve chardonnay was so ambrosial we had to break our "no rushing" rule and run out to Clearview on our way home to secure the last bottle. It was excellent paired with a seared orange perch with a smoked fish mayonnaise, but even better was the braised beef cheek, which was practically melting after a day's cooking, a "meaty and farmyardy" match with the 2001 Enigma ("like a peacock," says Tim, "it starts small and grows").
We found gaps for more meat with Craggy Range's wagyu beef pithiviers (posh meat pies, we urge them to package them), and finished with scoops of local Rush Munro icecream.
Embarrassing to admit, but by dinner time a teeny gap opened up in our stomachs and we headed to Deliciosa, the happening tapas bar in Havelock North. With its grapevine-covered deck, a packed dinner crowd, and maitre d' Imogen who brought her generous France-honed hospitality to every table, it is easy to see why it goes off. Imogen made us - honestly - taste our way through boquerones (marinated anchovies) super crispy pork belly with new season apples, the freshest take on salt and pepper squid and melon wrapped in jamon.
Owner Sarah Watson, chef Julius and Imogen change menus with the local seasonal produce, all with an eye on Spain by way of Mexico and New Zealand. The dessert nodded to Kiwi classics of Jelly Tip icecream, pineapple lumps and rocky road in a deeply pretty plate, helped by the sweet luscious Pedro Ximenez sherry and a St Germain passionfruit elderflower grappa.
Our accommodation at Ribbonwood Cottages was so unexpectedly generous - a proper kitchen, a fireplace, two queen-sized rooms opening on to a deck that seemed to hover above the views of Havelock North- that we decided to slow down even more and cook at home our second night. A dream shop at the Hastings' farmers' market sorted our menu. We stocked up on local lamb, Hohepa cheeses, crusty breads, olive oils and a weeks' worth of fresh veges and summer fruit - all for a fraction of the price in a nasty supermarket.
We rustled up friends in town for a concert at Mission Estate and dinner was a Hawkes Bay showcase of local food with the lights of Hastings and Napier twinkling in the distance. This, we figured, is how Hawkes Bay seduces Aucklanders into moving down and starting afresh.
We knew we had work to do next day although it quickly turned out that riding the Gimblett Gravels/Ngatarawa Triangle with On Yer Bike Winery Tours was possibly not going to work off those kilojoules. From her old woolshed, host Julie Russell dispensed us with a packed lunch in our baskets and we barely noticed the 20km ride as we stopped at wineries, sampling and nibbling (the wood-fired pizzas at Triangle Red were simply perfect, the hosts handed us bunches of herbs for our dinner later on); a quick stop at Havelock's extensive deli, Bellitino (with shopping bags by Dick Frizzell) filled in any gaps.
Monday's cycle was a perfect way to see the other half of the Bay. Takaro Trails specialises in three- or five-day tours, but a half-day riding from Napier's newly gentrifying Ahuriri village through Clive and around to Te Mata Cheese and Black Barn Vineyard is easy, flat and interesting, as the entirely off-road trail takes you past places you'd miss in the car.
And what better reward for our sweaty eco-tourism but the smartest dining in town, Terroir at Craggy Range? Immaculate food, a charming host and the only downside was that we'd missed a visit from Lance Armstrong by just 24 hours. He'd driven, not cycled, but clearly also managed to slow down and enjoy life in the Bay. Too good to be true.
TRAVELLERS' TIPS
En route: The Lake - A Retro Motel, 63 Mere Rd, Taupo. Phone (07) 378 4222.
Stay: Ribbonwood Cottages, 44 Endsleigh Dr, Havelock North. Phone (06) 877 1925.
Play: On Yer Bike Winery Tours, 121 Rosser Rd, Hastings. Phone (06) 879 8735 or 027 233 3398. Self-guided tour of the Gimblett Gravels area.
Takaro Trails: Self-guided day trips, mountain biking and three- and five-day tours. Brochures for the Napier & Hastings Rotary Pathways are available from the i-site offices.
Eat and Drink: Deliciosa, 21 Napier Rd, Havelock North. Phone (06) 877 6031. Tapas and wine.
Clearview Estate Winery: 194 Clifton Rd, Te Awanga, Hastings. Phone (06) 875 0150. Chardonnay, full-bodied reds and the red shed restaurant.
Terroir at Craggy Range: 253 Waimarama Rd, Havelock North. Phone (06) 873 7126.
Cook: Te Kouka Farm, Te Apiti Rd, Waimarama. Phone 06 874 6664. thefarm@clear.net.nz Lamb, pork and charcuterie.
Hawkes Bay Hills: Phone 021 840 465. Tender lamb.
Origin Earth, 411 Orchard Rd, Hastings: Phone 027 442 1008. Organic feta, yoghurt and whole milk.
Hanna Berry Farm: 84 Longlands Rd, East Hastings. Fresh and frozen boysenberries, jams and chutneys
Hawthorne Coffee Roasters: 23 Napier Rd, Havelock North. Phone 0800HAWTHORNE.
Hohepa: 363 Main Rd, Clive. Phone (06) 870 0426. Organic farm, on-site cheesery.
Holly Bacon: 213 East St Aubyn St, Hastings. Phone (06) 878 5072.
Te Mata Cheese Company: 393 Te Mata Rd, Havelock North. Phone (06) 875 8282.
* Catherine Smith travelled courtesy of Hawkes Bay Tourism.