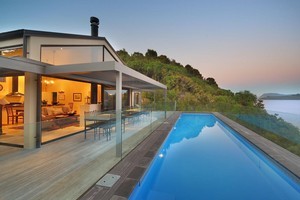 The Point Villas in Taupo are part of the Boutique Lodgings collection. Photo / Supplied
Treat yourself to mid-winter luxury at one of the properties in the Boutique Lodgings collection. Whether you choose a beachfront villa or a luxury lodge, you'll experience top-notch facilities and hospitality.
Soapy spectacle
The Taranaki International Festival of Arts runs August 4-21. A highlight will be German show Soap, where jugglers and trapeze artists perform amazing feats with bathtubs. The Famous Spiegeltent will be the venue for comedy, cabaret and dance.
Melodic Nelson
The Nelson Winter Music Festival's programme will appeal to a broad audience, whether it's family fun at the Bubbles & Mustard Show or the solo recital by German pianist Michael Endres. It runs July 9-24.
Contact: (03) 548 9477
Southern sweeteners
A Chocolate, Jazz and Shiraz evening, a Jaffa race and a Winter Ball at Larnach Castle are part of the Cadbury Chocolate Carnival in Dunedin, July 23-29.
Harvest at Hanmer
The annual olive harvest happens at Amuri Estate from the end of June and volunteers are welcome. The olives are picked by hand but apart from a reasonable level of fitness, the only requirement is a sociable personality.