It's never too early for your children to become social climbers, writes Alex Tully.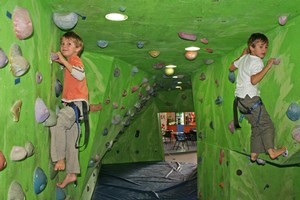 It was the school holidays and the rain was pouring down. It was driving the kids and me up the wall ... literally. We were at the all-weather climbing zone at Mount Maunganui's The Rock House having a great new experience.
Although the boys were keen to get climbing straightaway, we first had to learn the safe way of doing things. We were all fitted into safety harnesses and I was shown how to belay the boys up and down the walls.
Seven-year-old Jamie was first, carefully making his way up the seven-metre beginners' wall, checking out each hand grip as he went while I perfected my letting-out technique. It was a bit nerve-racking at first but I soon got the hang of it. Once Jamie was at the top, he was instructed to let go of the wall and hold on to the rope above his harness, allowing me to lower him back to the ground.
I struggled to keep 5-year-old Liam on a tight rein as he scampered to the top like a monkey on a mission. Before I knew it he was back down, claiming that he was just like Sir Edmund Hillary and looking around for his next Everest to conquer.
As their confidence and abilities grew, the boys tested themselves against some challenging climbs but the one they kept returning to was "the ladder".
Suspended from the roof to the ceiling, as if by magic, a cable ladder invited climbers to haul themselves up the underside of a 70-degree incline. This was hard work, as the boys discovered.
"Wooohooo," Jamie called as he made it to the top on his third attempt. The reward came not only in having reached the summit, but also in swinging through the air like a trapeze artist on the way back to earth.
I had planned on being at The Rock House for a couple of hours but the boys wanted to try out almost every wall.
In between scaling the heights, they perfected their newly acquired skills in the boulder cave. In this cave-like structure, there were handgrips on every available space, even the ceiling. The padded floor and short drops meant there was no need for belaying.
As late afternoon approached, adult climbers appeared and kept us spellbound with their antics; including climbing upside down on the 10m high ceiling.
Although we got to bed a bit late that night, after nearly eight hours at The Rock House, the boys went to sleep without protest ... no doubt to dream of climbing to the top of the world.
MORE INFORMATION
The Rock House is at 9 Triton Ave, Mt Maunganui. It costs $16 for adults and $12 for children.