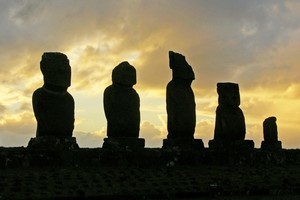 Having experienced superb overland safaris in Africa earlier this year, we are now fired up to go overland from Quito to Rio with Intrepid. After that we will travel by ourselves back to Buenos Aires or Santiago. How long should we allow overland, using local buses, travelling about six to eight hours a day? What places should we try not to miss? Which are the better border crossings? Any recommendations for accommodation in Easter Island?
- Alison Woodcock
Lonely Planet's Sarah Bennett & Lee Slater write:
Buses are the backbone of long-distance travel around South America, and are generally reliable, frequent and comfortable, especially if you pay extra for the executivo or leito seats. Approximate direct city-to-city bus travel times - Rio to Buenos Aires: 46 hours; Rio to Santiago: 72 hours; Buenos Aires to Santiago: 22 hours. Allow plenty of lingering time along the way so that you can stop and smell the rosas.
Long-distance hop-on, hop-off passes are hard to come by, but you can purchase multiple tickets before you set off from Rio. See here for major Brazilian bus companies.
You can also buy tickets as you go, giving you more flexibility and the chance to barter on less-busy services. Book ahead during peak times. There are hundreds of Argentine bus companies; Andesmar and Chevallier are major players.
It's cheaper to take a bus to the border, cross on foot and catch another on the other side, but it's quicker and easier on international buses. Most border crossings are straightforward, as long as your papers are in order.
Buenos Aires is an electrifying city with beautiful architecture, great cuisine and vibrant nightlife. However, if Rio was enough for you, you could spend more time exploring Argentina's interior. Buenos Aires-lite adventures can be had in Rosario and Cordoba, both on the way to Chile.
If cities are your thing, you'll enjoy the metropolitan madness of Sao Paulo, considered Brazil's cultural capital.
A more relaxed but authentic small-town experience can be had at the coastal town of Paranagua, or on the sweetly named Ilha do Mel (Honey Island) off the Parana Coast.
LAN flies to Easter Island from Santiago. From there, you'll either have to return to Santiago or fly onwards to Tahiti to connect with flights back to New Zealand. You'll find nearly all the hotels in Hunga Roa, the island's sole town, so it's possible to choose one you like by actually going and inspecting it rather than looking at photos online or in a magazine. Detailed accommodation information can be found in Lonely Planet's Chile & Easter Island guidebook.
Skip Syria, talk Turkey
Syria is regarded as the cradle of Western Civilisation and we would like to visit Damascus and the other important historical sites and then make our way through Turkey. Is it possible to get around Syria on public transport? Are there any difficulties crossing the border into Turkey? Are there buses or trains from the border, along the south coast of Turkey to Ephesus and then up to Istanbul?
- Allan Morris
Since March 2011, protests against the Syrian government have escalated in scope and violence, with hundreds of people killed.
The situation is worsening and according to the New Zealand Government advisory, "there is extreme risk to your security in Syria". Unless things drastically improve, you shouldn't travel there.
Keep up to date with developments through the online site and in the media.
The good news is that Turkey should more than satisfy your desire to explore historic sites in this part of the world. It also has some delicious food, one of the world's greatest cities, and scenery ranging from white-sand beaches to soaring mountains.
Any time you had set aside for Syria you could easily spend exploring more of Turkey. Lonely Planet's new Turkey guide is packed full of ideas.
The train network covers central and eastern Turkey fairly well, but doesn't go along the coastlines at all, apart from a short stretch between Izmir and Selcuk.
However, Turkey's intercity bus system is excellent, with modern, comfortable coaches and very reasonable fares.
You can easily join the dots along the Mediterranean coast and indeed across the whole country. Some of the larger bus companies include Ulusoy, Metro Turizm and Varan.
Win a Lonely Planet guide book
Email your questions to travel.info@lonelyplanet.com and they'll be answered by Lonely Planet's experts. In addition, the best question each week will earn a Lonely Planet guidebook. Add your postal address and the guidebook you'd like to receive.
Not all questions are answered and Lonely Planet cannot correspond directly with readers.