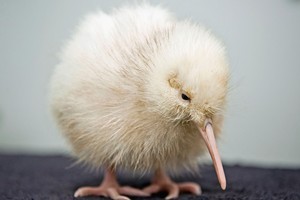 Manukura, the rare white kiwi hatched at Pukaha Mt Bruce on May 1, has moved into an outdoor enclosure and can be viewed every Sunday at 2pm. He's one of 14 kiwi chicks born during Pukaha's most successful breeding season ever.
While you're there, browse the enclosures and bush for other birds and enjoy the takahe talk, eel feeding and kaka feeding in a lovely natural setting.
Air force adventure
Find out if you've got what it takes to become an air force pilot on an adventure tour at the Air Force Museum at the former Wigram Air Base near Christchurch.
The one-hour tour runs at 11.15am on weekends, public holidays and during the school holidays and takes in parts of the museum not normally open to the public.
Other tours are available or you can browse through the museum on your own. It's open 10am to 5pm daily and admission is free.
Contact: (03) 343 9532
Window dressing
Paeroa celebrates local artists and craftspeople with its Art in Windows competition, where artists use their talent to showcase retail products in shop windows. The colourful, creative combinations bring the town centre alive, and there's an accompanying programme of workshops and demonstrations, as well as special exhibitions.
It runs July 1-15.
Mangawhai march
Run, walk or push your pram during the Carters Mangawhai Heads 2 Harbour Run/Walk on July 3. The 8.5km course starts at the Mangawhai Heads Ocean Beach carpark and ends near the harbour. Buses are available to shuttle participants to and from the course, and there are lots of spot prizes up for grabs.
Time for tea
The High Tea exhibition at Lower Hutt's Dowse Art Gallery will charm everyone who loves ceramics and the etiquette of afternoon tea.
It features the work of many renowned artists and includes dainty tea cups, quirky teapots, delicate doilies, exquisite ceramic cups, and a fragile flour sift and icing syringe.
It runs until July 17.