Graeme Barrow finds out why Cancun is becoming one of the world's top spots.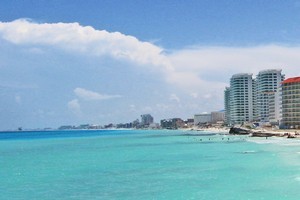 We sip our evening margaritas, gaze across the clear blue waters of the Caribbean towards Cuba on the distant horizon and look forward to an evening at a restaurant with live local music and maybe a nightclub thereafter.
As for tomorrow, will it be sun and sand, fun on or under the water, golf or shopping ... or a day trip to see one of the world's most famous ancient cities?
We're in Cancun, one of the most fashionable and popular coastal resorts in the world, combining a consistent sub-tropical climate, permanently warm and clean Caribbean seas, world-class accommodation and entertainment, a variety of water-based activities, and access to fascinating ancient ruins.
Cancun is on the north-eastern coast of Mexico, perched on the Yucatan Peninsula and alongside the Yucatan Channel, which separates Mexico from Cuba.
The city centre is on the mainland, but the actual resort where all us tourists stay is on a narrow strip, shaped like a bent finger, which is technically an island.
Connected to the mainland by a causeway, it is 20km long and rarely more than 2km wide.
On this strip, dozens of top-class international and locally-owned hotels, apartments, restaurants, nightclubs and shops sit cheek by jowl. Many are on the Caribbean beachfront, but others overlook the attractive lagoon, always alive with boating activities.
It is spectacularly beautiful, especially from the air. The sands are as white as snow and the sea a mouthwash blue. It basks constantly in the sun, although there is some rain in the autumn, and the average temperature is 27C.
Although Cancun enjoys a reputation as the resort to which Americans flock to party on tequila, margaritas and coconut rum, its popularity is spreading fast, and British Airways has just begun three direct flights a week from Gatwick.
A party town it certainly is, with numerous famous bars and nightclubs, neon or strobe-lit dance clubs and the beat of salsa and cumbia. The most popular clubs are the Hard Rock Cafe and Coco Bongo.
There is music in most restaurants too with local mariachi bands doing the rounds. Mariachi bands are emblematic of Mexican music, usually with eight-10 members, some of whom sing, while the instruments are violins, trumpets, a classical guitar, a bass and a vihuela - a high-pitched five-string guitar.
For those who haven't partied all night, there are good golf courses, a museum, shopping malls and markets. The leather goods are excellent, and the fabrics so colourful as to rival the silks of India. Havana cigars, Cuba being just over the horizon, are plentiful and at bargain prices. And bargaining is very much part of the shopping.
But it is in or on the water where Cancun comes into its own. There are supervised swimming sessions with dolphins, deep-sea fishing trips, boat trips to observe the whale sharks and - in the lagoon - water sports of all types.
For divers and snorkellers, Cancun is nirvana. The clear blue waters hold a variety of fish and sea creatures. There is even an underwater museum.
But what makes Cancun unique among the new world resorts is its proximity to a fascinating and mysterious ancient history - the culture and empire of the Maya.
The Maya were one of the most important tribes of Central American Indians, establishing a remarkable civilisation, which reached its peak in the 3rd to 9th century in Belize, El Salvador, Honduras and Yucatan in Mexico. Then, for reasons which are still being debated, the empire and the numbers of the people declined markedly.
The Maya, thought to have travelled from Asia thousands of years ago, are renowned for their knowledge of astronomy and mathematics. Priests were able to predict solar eclipses and accurately traced the orbit of Venus. They used numbers and developed a symbol that equated to the modern zero. Religion was based on an ordered cosmology and human sacrifice was common.
Surviving architecture includes stone pyramids and temples, and the best examples of these are at the ancient city of Chichen Itza - declared one of the new seven wonders of the world in a 2007 internet poll - which is readily accessible through daily bus trips from Cancun, and the guides are expert and knowledgeable.
There are temples, an observatory, a large ball court, the macabre Platform of Skulls and the famous Pyramid of Kukulcan.
You can easily spend several hours looking round, marvelling at this extraordinary civilisation ... and afterwards that evening margarita tastes even better.
CHECKLIST
Getting there: Fly Air New Zealand to Los Angeles then take a direct flight on either Mexican Airlines or one of the American airlines.
Further information: See Cancun's official travel information site.
Graeme Barrow paid his own way to Cancun.