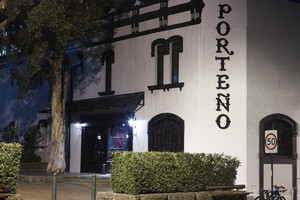 If there is one person that knows Sydney food, it is Myffy Rigby. The wannabe thespian stumbled into cheffing when her acting career didn't take off at quite the rate she had hoped for. A few years later she had a few more skills in the kitchen and a whole lot of knowledge about food.
Then she met her partner Pat Nourse, the food editor for Australia's prestigious Gourmet Traveller magazine. He encouraged her to do some food writing, so she did. She turned out to be pretty good at it, and before long she had landed the gig of food and drinks editor at Time Out magazine.
Between them they are now the power couple of Sydney's highly competitive foodie world.
Myffy eats out at least five nights a week and lives, breathes and eats her job, literally. So, I was pretty stoked when she offered to give me a guided tour around her favourite haunts in Surry Hills. This being a suburb on the outskirts of the CBD and Myffy's favourite place to eat out when she is off duty.
Surry Hills not only has a name for great food, it is also home to some of the city's underground gambling dens and brothels! We kick off at new eatery Bar H, owned by Hamish Ingham, the previous head chef at Kylie Kwong's restaurant, Billy Kwong.
We start with a Sashimi of Palmers Island Mulloway, thanks so much to Hamish for the recipe, it was quite one of the most delicious things I have ever tasted in my life. "Bar H balances a line between being casual but with very high end food, and their real strength is the emphasis they place on seasonality and freshness" says Myffy.
Eating and running was the name of our game, so on to the next place, Surry Hills institution, tapas bar, Bodega. If you don't get here before 7pm you have no chance of getting a table.
Run by the stunning Rachel Doyle and Jake 'the pirate' Smythe, it is full of great looking people and great looking food.
"They play their music loud, their snacks are loud, they kick it hard and they never apologise for being what they are" says Myffy. It is one of her regular haunts and the 'fish fingers' topped with Hiramasa Kingfish and cuttlefish ceviche were out of this world as were the Chipotle braised pork slices served with horseradish mayo in a steamed Chinese style bun.
We walk around the corner to its sister restaurant, Porteno, an Argentinean style grill. Rachel's sister Sarah runs the floor here, and does so with considerable finesse. The 50's style outfits, rockabilly hair do's and extensive tattooing, make for great watching.
The word "porteño" is Argentine slang for a citizen of Buenos Aires, and it is the cooking from this city, which has inspired this restaurant. The meats are cooked over an 'asador' a kind of upmarket campfire where whole beasts are cooked slowly and with plenty of love. We head upstairs to their bar and a Pisco Punch accompanied by a selection of snacks including a ceviche with sweet potato crisps, a mini hot dog and more empanadas! Porteno also has a reputation for its deep fried brussel sprouts with can convert even the biggest of haters.
We finish off at one of the suburbs newest ventures, The Duke, above the Flinders pub. Customers crowd around a four person bar to indulge in custom made cocktails produced by some of the Sydney's best bartenders. But, the food is also outstanding.
"The food is almost anti progressive, dude food, like fried chicken with chilli sauce, it's a little bit rock n roll," explains Myffy. There is a full menu as well as bar snacks and Myffy thinks it is one of the most exciting new restaurants to open in Sydney, and that alone makes it worth a look.
And while they may not be in Surry Hills, worth a special mention are a couple of places in the city's CBD. Neil Perry's iconic Rockpool Bar and Grill is one of the few art deco buildings in Sydney and one of the most stunning restaurants I have ever stepped foot inside. Luckily, the food lives up to the décor, it is currently, 'Time Out Sydney Best Restaurant 2010'. Make sure you try the Sydney Rock Oysters, they may not be Bluff, but they are good.
And right next door is Neil Perry's newest venture, Spice Temple, where I spent the best $15 in my life on one of their legendary pork buns. It's a soft, almost sweet bun filled with pork belly, coriander, ginger and one of the greatest taste sensations I have ever encountered. To quote Myffy, "ultimate deliciousness". She's bang on.
Belinda Henley flew to Sydney courtesy of Air New Zealand.