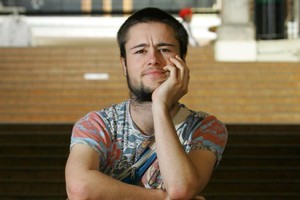 Do you travel light or heavy?
I travel lightly but I'm never not travelling with a project to do, which often involves bringing a lot of stuff with me.
Cattle or first class?
I make art, aka not a lot of money, at least not enough to live it up large on first class - and to be honest, I prefer it that way.
What's always in your hand luggage?
A notebook for drawing Venn diagrams.
Are you a planner or last minute packer?
I pack blindfolded so it's more exciting when I unpack at the other end.
What's the best thing you've brought back from a trip?
A hardwood seed pod rattle I scooped out of the water from within a dug-out canoe paddling up a tributary of the Amazon River in Southern Colombia in the pitch dark of night.
Favourite or most exciting airport to land in?
Papeete in Tahiti because they have dudes playing ukuleles when you enter the building - get with the programme rest of the world. Ukuleles are where it's at.
Most memorable trip?
Eating a pie-shake in Iowa City, that's a thickshake with a piece of rhubarb pie crumbled into it - it changed my life.
Sam Hamilton is a sound artist who is collaborating with painter John Reynolds on Tramp State, a series of guided sound walks that provides an Auckland city tour for the ears rather than the eyes. The walks start at Freyburg Place, at 2pm on April 10 & 16, and 12.30pm on April 12 & 14, and are part of public art event The Living Room 2011.