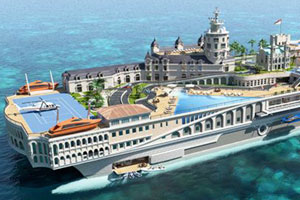 Forget superyachts - this is a new generation of hyperyacht.
A lavish new yacht being designed by a British firm is almost literally a floating city - the 155m Streets of Monaco is expected to cost more than A$1.1 billion (NZ$1.4 billion) to build and is modelled on a section of Monte Carlo, news.com.au reported.
The super-ship will feature smaller versions of the state's famous landmarks such as the Monte Carlo Casino and racetrack, as well as pools, courts, a cinema, a go kart track and a Hotel de Paris.
News.com said that instead of traditional decks the one-of-a-kind ship would have buildings, and instead of a swimming platform it would have a beach. There are also plans for waterfalls, a swim-in jacuzzi-bar and helicopters.
The ship is aimed at the high-end market - accommodating 16 guests and 70 crew with the main apartment spread over three floors and 445sq m.
Linking upper and lower living areas is the atrium - featuring seven guest suites, a bathroom, bedroom, dressing room, reception and balcony.
The idea for the super-boat, designed by Yacht Island Design, was sparked by car racing and developed into something more innovative.
"It is basically a floating city," company director Rob McPherson said.
"The design theme called for a unique yacht that reflected the style and sophistication of the principality.
"We want to create a truly unique environment that could take the principality of Monaco to the ocean."
A second creation by Yacht Island Design will be a smaller 85m yacht based on a Pacific Island theme.
- NZ HERALD STAFF